Biography of Apple CEO Steve Jobs to arrive in November [u]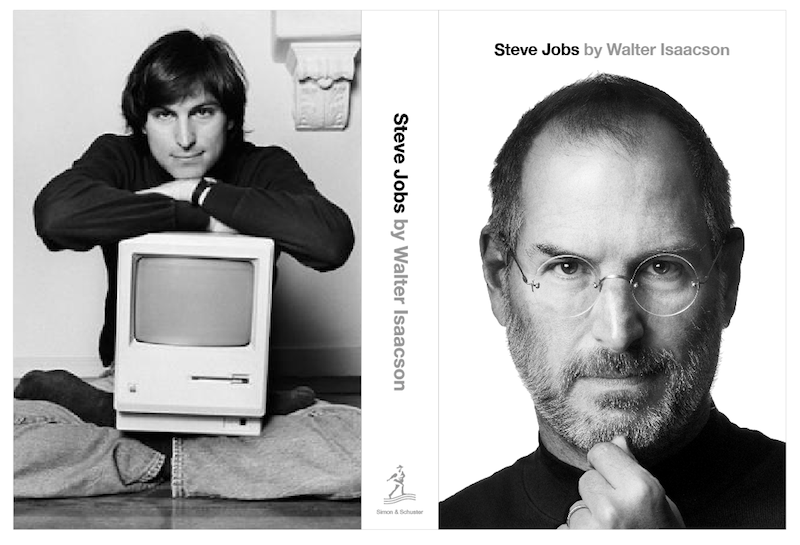 AppleInsider may earn an affiliate commission on purchases made through links on our site.
The authorized biography of Apple CEO Steve Jobs by Walter Isaacson is reportedly set to arrive on Nov. 21, 2011, ahead of its original release date of early 2012 [updated with full book jacket image].
Update: Fortune has posted an early look at the full book jacket (below).
"The cover," Isaacson wrote in an email, "is the Albert Watson portrait taken for Fortune in 2009. The back is a Norman Seeff portrait of him in the lotus position holding the original Macintosh, which ran in Rolling Stone in January 1984. The title font is Helvetica. It will look as you see it, with no words on the back cover."
The author also responded to speculation that the publication date had been moved up because of a rumored decline in Jobs' health. "It's actually not related to any decline," he said. "I turned most of the book in this past June. It's now all done and edited. The March 2012 date (or whatever date it was) was never a deeply-considered pubdate. Like the original cover design, it came about because the publisher wanted to put something in the database last spring."
As noted by All Things D, bookseller Barnes & Noble has moved up the publication date for the title to November and revealed the new cover, an iconic black-and-white photo of Jobs.
Online retailer Amazon's Kindle version also lists the Nov. 21 release date. It should be noted, however, that Apple's iBooks and the hardcover version from Amazon still list the book's release date as March 6, 2012.
According to publisher Simon & Schuster's description of the book, Jobs "asked for no control over what was written nor even the right to read it before it was published. He put nothing off limits and instead encouraged the people he knew to speak honestly even foes, former girlfriends, and colleagues he had once fired or infuriated.
"Driven by demons, Jobs could drive those around him to fury and despair. But his personality and products were interrelated, just as Apple's hardware and software tended to be, as if part of an integrated system. His tale is instructive and cautionary, filled with lessons about innovation, character, leadership, and values."
Jobs himself has said the book will be open about his own failures. "I've done a lot of things I'm not proud of, such as getting my girlfriend pregnant when I was 23 and the way I handled that," he said. "But I don't have any skeletons in my closet that can't be allowed out."
The book was originally titled "iSteve: The Book of Jobs," but was changed to the "simpler and more elegant" title after Isaacson's wife and daughter said it was "too cutesy." Isaacson has written biographies on Benjamin Franklin and Albert Einstein.
"This is the perfect match of subject and author, and it is certain to be a landmark book about one of the world's greatest innovators," Simon & Schuster publisher Jonathan Karp said when announcing the book earlier this year. "Just as he did with Einstein and Benjamin Franklin, Walter Isaacson is telling a unique story of revolutionary genius."
According to a report from The New York Times that revealed the project last year, Jobs may have "more of an interest in shaping his legacy" after recent health battles. In recent years, he has survived pancreatic cancer, undergone a liver transplant and struggled to maintain his weight. The CEO is currently on a medical leave of absence from Apple, though he remains involved in strategic decisions for the company.