New Android Amazon Kindle to abandon eInk and take on iPad with customized Android build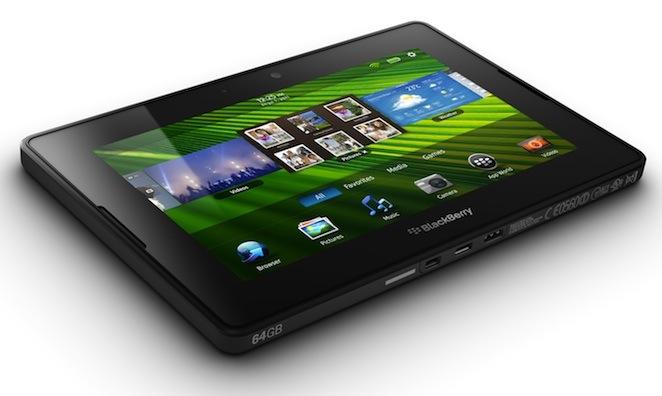 Amazon's next Kindle will abandon the efficient, easy to read eInk display of existing models and morph into a $250, 7 inch color touchscreen model based on Android, but incapable of accessing Google's app market or benefiting from future Android releases.
The details of the new Kindle were leaked by TechCrunch writer MG Siegler after a hands on review of the new model. Siegler said the device looks very similar to the BlackBerry PlayBook "in terms of form-factor."
The report states that Amazon was trying to ship the 7 inch model alongside a 10 inch companion, but focused on delivering the smaller tablet first. It is expected to ship in October, with the iPad-sized version held back for another year.
Priced at $250, Amazon's new Kindle will be far cheaper than the RIM PlayBook (pictured below), which still costs at least $450 even after a $150 price cut by Best Buy to move inventory after sluggish sales. However, the new Kindle will cost the same as Barns & Noble's Nook Color, which is similarly sized and is also based on Android.
After originally limited the Nook Color to only function as an ebook reader, B&N opened the device up to run Android apps and function more like a general purpose tablet. The company also cut the price from a list high of $504 to $250 to attract buyers.
Like the Nook Color, PlayBook, and Samsung's original 7 inch Galaxy Tab, Amazon's new Kindle won't run Google's latest tablet-specific version of Android 3.0 Honeycomb. Instead, the Kindle is reported to run a modified version of Android 2.2 Froyo that uses a highly customized user interface created by Amazon.
"The interface is all Amazon and Kindle," Siegler wrote. "It's black, dark blue, and a bunch of orange. The main screen is a carousel that looks like Cover Flow in iTunes which displays all the content you have on the device. This includes books, apps, movies, etc. Below the main carousel is a dock to pin your favorite items in one easy-to-access place. When you turn the device horizontally, the dock disappears below the fold."
The device lacks any physical buttons. Users navigate to the home screen via on-screen navigation. The device is said to be integrated into Amazon's own appstore, and lacks any Google apps or access to Google's Android Market.
Instead, the device includes a Kindle app, Amazon's Cloud Player app for music, and the company's Instant Video player for viewing its Netflix-like video subscription service. The device is reported to be built around a single core processor, will initially be WiFi only, and have only 6GB of storage, relying on Amazon's cloud services to access content. It also lacks a camera.
As described, the new Amazon Kindle would compete with existing "tweener" tablets introduced last year with similar hardware specifications and (like the Nook Color and 7 inch Tab) a similarly limited version of Android, the same version Google asked its licensees not to base their tablets upon as it worked to finish Android 3.0 Honeycomb.
These devices were the subject of criticism by Steve Jobs' prediction last year that manufacturers were only making 7 inch tablets to hit a particular price point because they couldn't match the iPad's features and price, and that once those devices flopped in the market, their makers would introduce larger models capable of delivering a real tablet experience.
A year later, after sales of iPad-sized Honeycomb tablets like the Motorola Xoom and Samsung Galaxy Tab 10.1 failed to materialize, a variety of Android makers are returning to the mini-tablet form factor in hopes of hitting a low enough price point to spark interest and perhaps exploit a low end market below that dominated by the iPad. When the iPad first appeared, critics suggested that there was no potential market for devices between handheld mobiles and full sized notebooks. Now they hope there is one between handhelds and the iPad.
Finding the lowest common denominator for Android fractions
It's not yet clear whether Amazon will discontinue its eInk Kindles, which are limited primarily to ebook reading but offer some unique advantages in readability and power efficiency over conventional backlit LCD displays. Amazon previously focused on the advantages of its eInk Kindles when comparing them to the iPad.
The new Kindle's use of Android won't allow the device to run this year's Android 3.0 Honeycomb apps or the new Android 4.0 "Ice Cream Sandwich" apps Google plans to introduce this winter.
That will force Android developers to decide which fraction of the population to support: the growing segment of users attracted to low cost Android 2.x tablets, or much smaller minority of users springing for larger tablets that can run the new 3.0 and 4.0 apps, but which cost as much or more than Apple's iPad.
Across all devices that run Android and have recently accessed Google's app market (that would exclude devices like the Nook Color and the upcoming Kindle), as of the beginning of September, 2011, less than 2 percent run Honeycomb, while 30 percent run a version of 2.3 Gingerbread released for smartphones last winter by Google. Just over 51 percent run Android 2.2 Froyo, and more that 16 percent run a version prior to Froyo. A variety of very popular Android smartphones still don't have an upgrade path to last winter's release of Gingerbread.
Android brand becoming meaningless
Like the Nook Color however, the new Kindle's use of "Android 2.x" masks the reality that "running Android" doesn't necessarily mean that an device can run "Android apps," or that it looks and works like other Android devices, even when limiting that definition to a specific version and API level of Android.
As noted by blogger Danny Sullivan, despite running "Android 2.2," the Nook Color is similarly designed to only work with B&N's own app store. That means its users can't install the free edition of Angry Birds in Google's Android Market, but rather have to buy the Nook-specific version.
"With the Nook, if you already own Angry Birds on another Android device, you won't be able to use it. And if you buy the Nook version, that's not going to work on your real Android devices," Sullivan explains, adding, "if these devices will be called 'Android' by the press, I think we need to set some minimum requirements for that.
"At the very least, the device should be able to run any of the thousands of applications that would typically run on an Android device. Having its own app store with a tiny subset of apps that can't be used on real Android devices is a sign it's not really Android."