Apple reopens iTunes Match beta to additional developers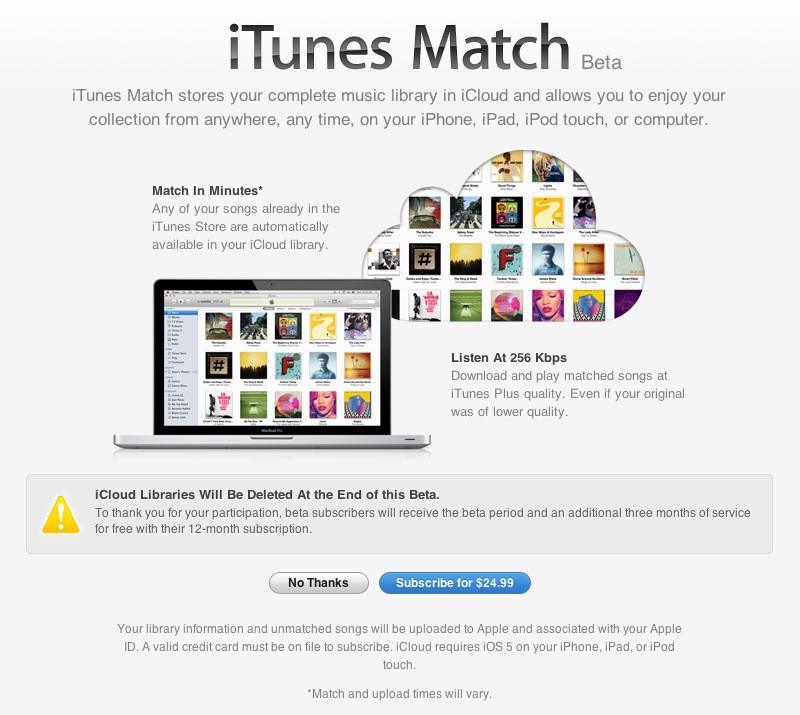 Apple has quietly opened up the beta for its iTunes Match service to a second batch of developers as the company readies it for launch this fall.
The Cupertino, Calif., company initiated the beta for the "scan and match" music service in late August, closing it to new testers within days.
iTunes Match is slated to arrive this fall along with iCloud and iOS 5 and will offer iTunes customers a way to match their non-iTunes purchased music with offerings in Apple's digital music store. Matched songs will then be made available via iCloud, upgraded lower-quality songs to a bitrate of 256-Kbps.
MacNN noted on Saturday that a small number of testers report receiving notification that the service had been "expanded to additional developers" located in the U.S. Participating developers must still pay the $24.99 annual fee, though they will receive an additional three months of service for free with their subscription.
On Friday, Apple issued the eighth beta release of iTunes 10.5, with improvements for iTunes Match.
The iTunes Match beta drew attention late last month when it was initially revealed that the test version carried support for instantaneous playback from the cloud. An Apple spokesperson quickly clarified that the feature was not actually "streaming" playback as some had called it, as the file still needed to be stored on an iPhone or iPad.
A subsequent update to an iOS 5 beta removed the ability to instantly play a song by downloading it to a temporary cache. As of beta 7 of the forthcoming mobile OS, playback initiated from iCloud will cause the song to be saved as a file in the device's local music library.