NBC, TNT and TBS add full TV episode access via iPad apps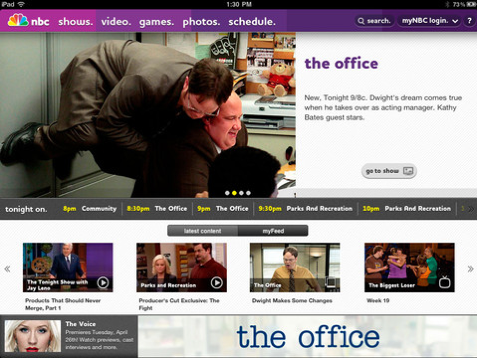 AppleInsider may earn an affiliate commission on purchases made through links on our site.
Television networks NBC, TNT and TBS recently began offering streaming full-length TV episodes on their respective apps for Apple's iPad, though shows from TNT and TBS are only available to eligible cable or satellite subscribers.
NBC announced last Friday that it has updated its NBC.com app for iPad to include access to full episodes, thus mirroring "the online experience."
The application, originally launched in June, lets users browse through "thousands of video clips and highlights, exclusive photo galleries, recaps, games and news, making it all customizable from myNBC dashboard."
NBC also updated a second iOS application, NBC Live. The app now includes features such as access to video clips, games or photos within the application. The network plans to use these new features to make broadcasts of certain TV shows, including "The Office," "The Sing-Off," The Biggest Loser," and "Chuck," unique and interactive for the user.
Both NBC.com and NBC Live are available as free downloads in the App Store.
Turner Broadcasting System also launched its own iPad applications last week: TNT for iPad and TBS for iPad, with support for full-length episodes.
Both applications are available free of charge from the App Store, but each requires authentication with a cable or satellite provider in order for the user to gain access to network-specific streaming content.
Similar in appearance, each app includes access to movies and TV shows aired on TNT and TBS, respectively, as well as series episodes guides, clips, behind-the-scenes features, schedules and reminders, and social networking integration via GetGlue, Facebook and Twitter.
TNT for iPad offers access to various TV shows, including "The Closer," "Falling Skies," and "Rizzoli & Isles," while TBS for iPad provides access to full episodes of "Conan," "Tyler Perry's House of Payne," "The Office" and others.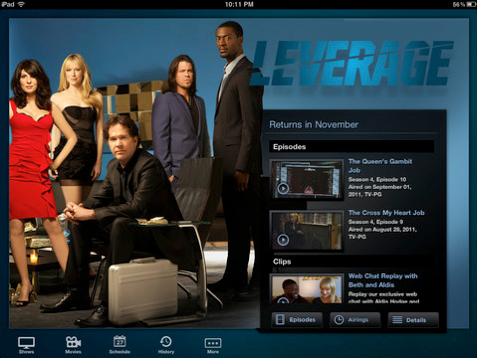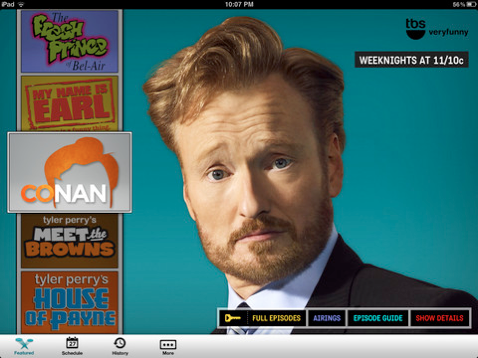 However, some users report having issues gaining access to full episode content. Both the TNT and TBS iPad apps currently have an abundance of 1-star ratings, with customers stating in a number of reviews that they were unable to get the feature working.
Some of the TV shows that can be streamed to the iPad via any of the three new iOS apps are also already available for purchase in the iTunes Store. Users can buy single episodes or full series of their favorite TV shows in either standard or high-definition. The TNT and TBS apps for iPhone have also been updated to include support for full episodes.