Wall Street response to iPhone 4S muted, but optimistic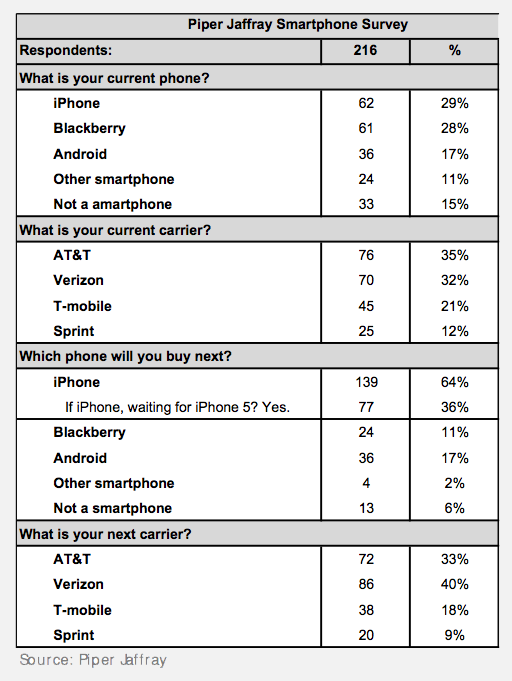 Following Apple's unveiling of the iPhone 4S on Tuesday, Wall Street's response was relatively subdued, though analysts remain optimistic that Apple sales growth will continue to rise.
Apple took the wraps off the iPhone 4S at its "Let's Talk iPhone" event. The fifth-generation handset is a "world phone" that carries the same external form factor as the iPhone 4, but boasts a faster processor, improved antenna design and new Siri voice recognition functionality.
Shares of Apple experienced volatility on Tuesday in light of Apple's announcements. The stock slide from a close of $374.60 on Monday to as low as $355.18 during the day on Tuesday, before rallying back to close at $372.50, down just 0.56 percent.
The general response by the public appears to be largely underwhelmed. But, several Wall Street analysts noted the disappointment, while also reiterating their confidence in Apple's continued growth.
Piper Jaffray analyst Gene Munster sent a note to investors saying that Apple's announcements at its "Let's Talk iPhone" event were in line with expectations.
"The bottom line is that while investors may be disappointed by the lack of a redesigned iPhone, we believe the iPhone 4S will meet or exceed unit expectations, as it represents the first iPhone launch at two major US carriers (Verizon and Sprint) along with KDDI in Japan," he wrote.
Munster believes the launch of the device will attract long lines, based on survey data from August. According to him, there is pent up demand for the iPhone 4S, as 64 percent of mobile phone users surveyed in August indicated plans to buy an iPhone the next time they purchase a new phone, with 36 percent of those surveyed saying they would wait for the "iPhone 5." But, it should be noted that the survey had a small sample size of just 216 respondents.
Verizon and Sprint are expected to give Apple a sales boost, even without a redesign of the iPhone's externals. Munster remains comfortable with his 25 million unit estimate, given the level of demand expected from the two carriers. According to him, Sprint should have the highest backlog of demand, though large numbers of Verizon customers who passed on the iPhone 4 and have been waiting for a next-generation Apple handset are also predicted to buy the iPhone 4S.
74 percent of Verizon subscribers who do not have an iPhone but plan to buy one as their next mobile phone were waiting specifically for the fifth-generation model, compared to 53 percent of AT&T subscribers, Munster noted.
Analyst Mike Abramsky said Tuesday that a drop in Apple's stock price was "not unexpected" because the announcements only met expectations. He remarked that updates in the iPhone 4S and iOS 5 are "largely evolutionary," though he did note that the Siri voice assistant was "cool."
The analyst recommends investors buy shares of Apple on weakness, as he remains positive on Apple in the longer-term.
"Similar to the iPhone 3GS (which was evolutionary vs. the iPhone 3G), we believe investors should not underestimate the potential upgrade cycle of the iPhone 4S," he said, adding that RBC survey data shows "unprecedented" demand for the iPhone 4S.
Abramksy sees iCloud and iOS 5 as important differentiators that will help lock users into the Apple ecosystem. Also, the addition of Sprint as an Apple carrier partner will expand the iPhone's addressable market by 25 percent in the U.S.
He pointed out that the new $0 iPhone 3GS will psychologically provide a "compelling offer" to consumers, potential doubling Apple's addressable market to 150 million smartphones per year.
On page 2 of 2: J.P. Morgan, UBS and Morgan Stanley.
Mark Moskowitz called the lack of a new "iPhone 5" a near-term disappointment, as he had expected Apple to release two devices on Tuesday. However, he did note that he views the "feature set improvements in the iPhone 4S and the broader pricing strategy as positives."
Given the upgrades of the iPhone 4S in combination with iOS 5 and iCloud, Moskowitz says the iPhone 4S is "elevated…above the rest of the pack."
The analyst disagreed with Abramsky's depiction, calling it "more than evolutionary." He highlighted the new A5 dual-core CPU with a 7x improvement in graphics performance, as well as the new "world-mode" functionality, improved battery life, and double the download speeds of the current iPhone 4.
Moskowitz views Apple's faster time-to-market and midrange pricing as driving sales of the iPhone. "The new 4S is slated for pre-orders starting October 7 in six countries and then expected to reach 22 more countries on October 28. By the end of 2011, Apple expects distribution in 70 countries and through 100 carriers," he said.
Apple's pricing now extends from a free iPhone 3GS with a two-year contract to $399 for the 64GB iPhone 4S. According to Moskowitz, Apple's strategy to "cover the spectrum of smartphone price points" should set up the company to make gains in emerging markets, including China.
The analyst is a believer in Siri as providing significant added value to the iPhone platform. "Once investors dig into Siri, we think its addition will overshadow the lack of full iPhone form factor change," he said.
"We think Siri can be viewed as Apple's initial play into artificial intelligence. The capabilities featured are not equivalent to IBM's Watson, but without too much imagination, Apple's Siri + iCloud appears to have significant headroom in terms of technical capabilities," Moskowitz wrote.
UBS analyst Maynard Um believes Apple has once again "proven its ability to innovate" with Siri, comparing the voice recognition technology to Apple's introduction of multi-touch interfance with the original iPhone. He does note that some will be disappointed by the unchanged design of the iPhone 4S, but he sees Siri, iCloud and other iOS 5 features as driving the next wave of demand.
Like Moskowitz, he views an accelerated country launch and lower-priced iPhone models as instrumental to Apple's handset sales. The firm predicts Apple will sell 25 million iPhones in the first quarter of fiscal 2012, with strong possibility for upside that could bring in $0.02 in earnings per share per incremental 100,000 iPhones sold.
Katy Huberty said in a note to clients that Apple had failed to meet high investor expectations with its announcements Tuesday. But, she pointed out that the market "tends to forget that software is what differentiates Apple from the competition." According to her, Apple's efforts with iOS 5, Siri and iCloud continue that fact.
iPhone estimates look "very conservative" in light of past product cycles, Huberty said. Momentum in China, new carriers and the potential for more new phones next year. Morgan Stanley telecom analyst Simon Flannery estimates an incremental one million iPhone per quarter demand from Apple's new relationship with Sprint in the December quarter and 2012.
Huberty's checks with the supply chain indicate that Apple may see improved margins with the iPhone 4S because of "significant component price cuts over the past six month, to the tune of 10-20%." Also, limited hardware design changes to the iPhone 4S should contribute to better gross margins earlier in the product cycle, she said.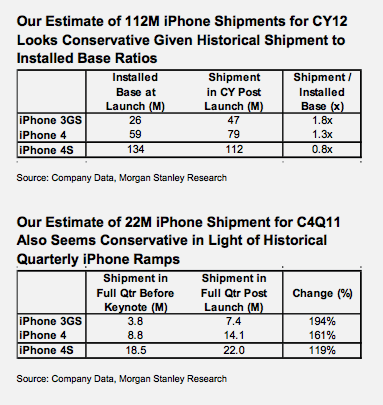 The analyst continued to assert that surging demand in China will drive Apple's momentum, pointing to record traffic and revenue ramps for the iPhone maker at its new Shanghai and Hong Kong stores. Apple saw more than 600 percent growth year over year in the Greater China region last quarter, reaching $3.8 billion in revenue.