Apple rivals, partners & press pay tribute to Steve Jobs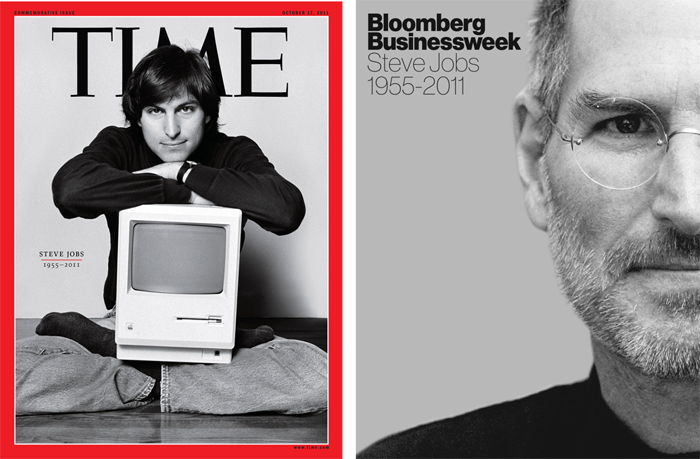 For the first time in at least 30 years, Time magazine stopped its presses when news of Steve Jobs's death broke. The publication's latest issue with Jobs on the cover will hit newsstands Friday, and will join numerous other tributes to the late Apple co-founder.
This week's Time cover features a portrait of Jobs, taken by Norman Seeff, in which he is holding the original Macintosh. It originally ran in a story in Rolling Stone in 1984.
The magazine's managing editor, Richard Stengle, made the decision to stop the presses just after his staff had finished work on the issue. An emergency editorial meeting was then held, and a new issue was created in just over three hours, an unprecedented turn of events for the nearly 90-year-old publication.
The magazine noted that in the process of redoing its entire issue, many of the employees worked on the very Apple devices that Jobs helped to invent. It will be the eighth time Jobs graces the cover of Time, the last coinciding with the launch of the iPad in 2010.
Bloomberg Businessweek also announced that it will have a special issue of its magazine devoted to Jobs on newsstands Friday. The 64-page, ad-free tribute issue will also be available digitally on Apple's iPad.
It will feature pieces by Steve Jurvetson, John Sculley, Sean Wisely and William Gibson. The cover of the magazine features Apple-like simplicity, with a black-and-white, up close photo of Jobs and his years of birth and death.
Both magazines will join many other tributes that have begun to take shape since Jobs passed away on Wednesday. Some of Apple's partners, and even some of the company's fiercest rivals, have showed their appreciation for the contributions Jobs made to the technology industry and the world.
The homepages of both Google and Amazon featured tributes to Jobs with links to Apple's website. Even Adobe, a company with which Jobs had very publicized differences, paid respects to Jobs on its website, displaying a photo of him with Adobe co-founders Chuck Geschke and John Warnock on its front page.
The news of Jobs' death dominated headlines across the Web and in newspapers on Wednesday and Thursday. It was such a major mainstream story that even the homepage of sports network ESPN featured two headlines to inform readers of Jobs's passing.
Below is a collection of Web tributes and other acknowledgements of Jobs in the wake of his death. The memorials are joined by numerous comments shared by contemporaries like Bill Gates, Eric Schmidt and Michael Dell, as well as U.S. President Barack Obama.