Apple exploring lighter, more efficient hydrogen fuel cells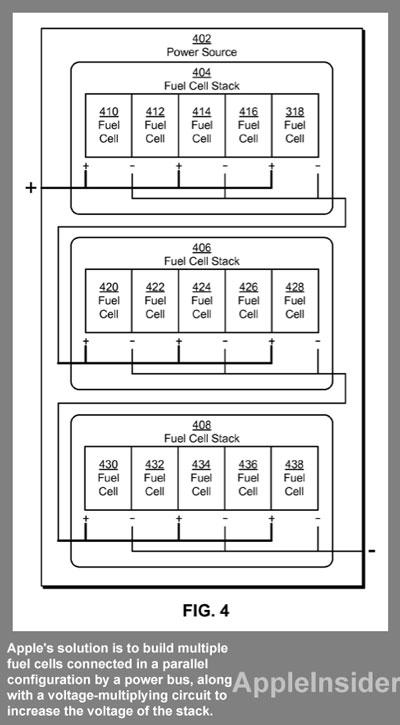 AppleInsider may earn an affiliate commission on purchases made through links on our site.
Apple's interest in alternative energy and building "green," energy-efficient devices has been highlighted in a new concept for hydrogen fuel cells to power portable electronics.
A pair of new patent applications published this week by the U.S. Patent and Trademark Office and discovered by AppleInsider demonstrate the work Apple has done internally on fuel cells. The filings describe how Apple could build the power sources smaller and lighter for portable devices.
The first application, entitled "Parallel Fuel Stack Architecture," describes how Apple could arrange a set of fuel cells into a fuel stack. In the second filing, named "Reduced-Weight Fuel Cell Plate," Apple describes how it could use lightweight electrically conductive and corrosion-resistant material to build a fuel cell.
The applications explain that fuel cells provide electrical power by converting a fuel, such as hydrogen or a hydrogen-containing compound, into an electric current. Fuel cells contain an anode, a cathode, and an electrolyte between them.
In a fuel cell, a catalyst at the anode oxidizes the fuel and produces positively charged ions and electronics. Ions from the oxidization process then pass through to the cathode while blocking the passage of electrons, and the electrons then drive a load connected to the fuel cell.
For a waste product, the ions recombine with a negatively charged atom, such as oxygen, at the cathode. Any waste from a fuel cell escapes as carbon dioxide and/or water.
A fuel cell typically produces low voltages between 0.5 and 0.7 volts, requiring multiple fuel cells to be combined to create a fuel cell stack. But these stacks come with a number of inherent issues.
For starters, fuel cell stack architectures can have a single point of failure in a connected series. Fuel cells may also fail for a number of reasons, including accumulation of nitrogen in the anode, degradation of the electrolyte, or water flooding in the anode or cathode. Because of this, the reliability of a fuel cell stack can decrease as the number of cells in the stack grows.
Apple's solution for this issue is to build multiple fuel cells connected in a parallel configuration by a power bus, along with a voltage-multiplying circuit to increase the voltage of the stack. In this way, the reliability of the stack would be increased while the fuel cells could also potentially power devices with higher operating voltages.
Another problem with fuel cells detailed by Apple is their bipolar plates are typically built with conductive and corrosion-resistant materials, such as stainless steel, that are high in density and add weight to the fuel cells. A stack of cells, all made of stainless steel, can create a power source and portable device that are too heavy to be used practically.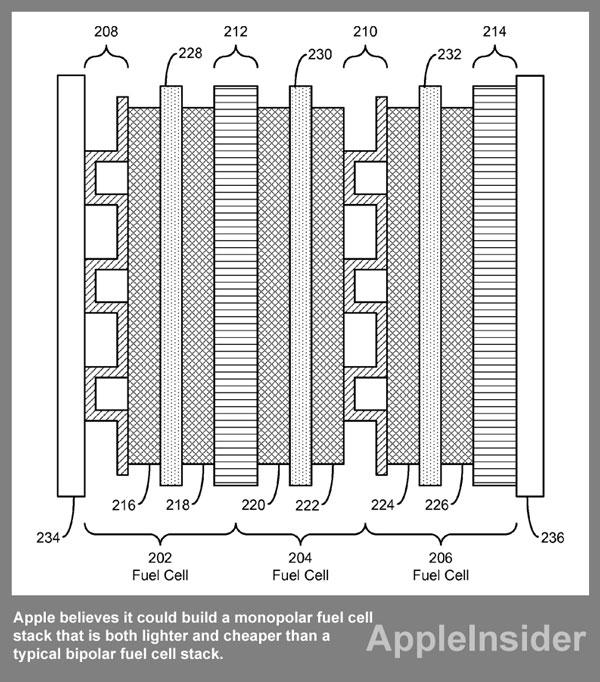 To address this problem, Apple proposes arranging the fuel cells in a monopolar configuration to enable sharing of electrodes between adjacent fuel cells in the fuel stack. This sharing of electrodes could significantly reduce the number of electrodes in the fuel stack, and also enable the use of monopolar plates that are lighter and thinner.
In this method, Apple believes it could build a monopolar fuel cell stack that is both lighter and cheaper than a typical bipolar fuel cell stack. Even with the reduction in weight and cost, the filing says the stack could contain the same number of fuel cells, or even be more powerful than a traditional bipolar fuel cell stack of the same size.
Both patent applications, made public this week, were first filed with the USPTO in April of 2010. The parallel architecture filing is credited to Steven. C. Michalske and Bradley L. Spare, while the reduced weight application is credited to Vijay M. Iyer, Jean L. Lee and Gregory L. Tice.
Apple has frequently explored the possible use of alternative energy sources in its devices to make them more efficient and environmentally friendly. While the mention of fuel cells in an application from Apple is unique, the company has repeatedly (1, 2, 3) explored the option of solar power in its portable electronics.