Enterprise users prefer Apple as iPhone, iPad reign over Android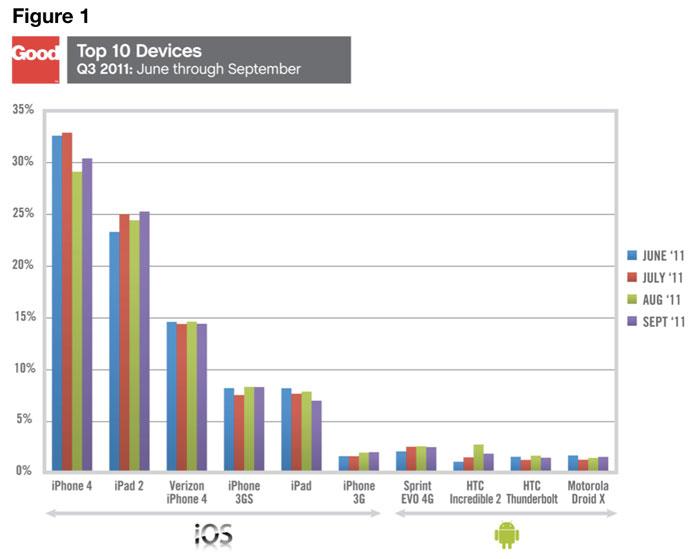 AppleInsider may earn an affiliate commission on purchases made through links on our site.
Newly published data on enterprise device activations show that Apple's iPhone remains the top choice for corporations over Android, while the iPad represents nearly all of enterprise tablet adoption.
The figures, published Thursday by Good Technology, conclude that enterprise users have a "clear preference for Apple products." The iPhone accounted for 61 percent of all enterprise smartphone activations in the third quarter of 2011, retaining the lion's share despite Android's growth to 39 percent of smartphones.
Apple's iPad also showed complete domination of the enterprise tablet market, taking 96 percent of total activations tracked by Good. Android represented just 4 percent of tablet activations for the quarter.
The iPad has seen the greatest growth in the financial services industry. That industry accounted for 46 percent of total iPad activations for the quarter, more than tripling activations in any other industry, according to Good.
In all, iOS devices including the iPhone and iPad accounted for more than 70 percent of device activations tallied by Good in the third quarter of 2011.
Good provides push e-mail, mobile device management and security products for mobile phones. Its figures come from thousands of corporate and government customers.
The data does not include devices by Research in Motion, as they can only use BlackBerry Enterprise Server for corporate e-mail access. Good's figures also do not include Windows Phone 7 devices, though they are expected to be added in the future.
"This quarter, we saw Android smartphones gain in percentage of total activations," said John Herrema, senior vice president of corporate strategy at Good Technology. "This is likely due to consumers holding back purchases of new iPhones in anticipation of Apple's latest release (the iPhone 4S)—as our reports indicate, consumers are setting the agenda for enterprise mobility."
He added: "Looking forward to Q4, 2011, we expect to see the iPhone 4S to be the catalyst for an Apple rally."
Good's data shows Apple products dominating the top 10 devices activated, with the GSM iPhone 4, iPad 2, and Verizon iPhone 4 taking the top three spots. Even the iPhone 3G remains among the top tracked devices, with numbers comparable to the HTC Thunderbolt and Motorola Droid X.
"Even though Apple devices, with their limited SKUs, dominated the top 10 list, the longtail of Android devices built up momentum from the previous quarter, with 4G-capable models like the Sprint EVO 4G and HTC Thunderbolt being especially popular," the report noted.