Apple updates iPad 2 Smart Covers with color changes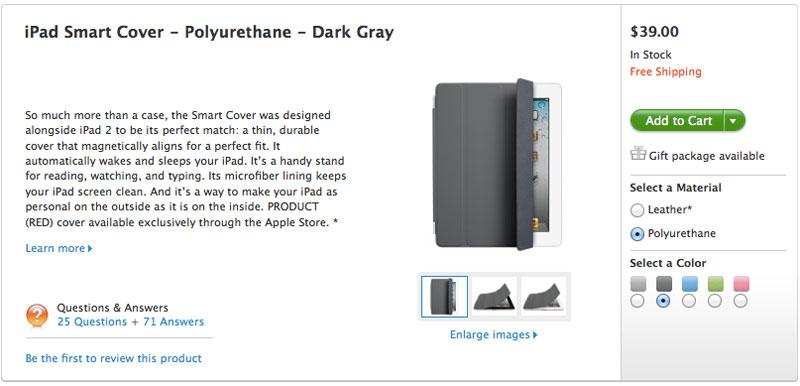 AppleInsider is supported by its audience and may earn commission as an Amazon Associate and affiliate partner on qualifying purchases. These affiliate partnerships do not influence our editorial content.
Apple on Monday revised its lineup of magnetic Smart Covers for the iPad 2, adding a few color options while discontinuing the orange polyurethane version, among other changes.
As can be seen on the order page for Apple's online store, the revised iPad 2 Smart Covers now feature an interior microfiber lining that is color-matched to the outside cover. Previously, iPad 2 Smart Covers all had the same gray color on the inside.
The option of an orange polyurethane Smart Cover has also disappeared, with that color having been replaced with a dark gray option. That color is in addition to the light gray, blue, green and pink Smart Covers.
The polyurethane colors have also been modified to be "more vibrant," Apple's official product description reads. The leather covers remain unchanged except for the navy option, which has seen its color slightly modified to make it "more navy," a source told MacRumors.
The iPad 2 Smart Covers remain priced at $39 for the polyurethane versions, and $69 for leather. In addition to navy, the leather Smart Covers are available in tan, black, cream and (Product) Red, of which portions go to the Global Fund to fight AIDS in Africa.
The Smart Cover is an accessory for the iPad 2 that features 21 magnets to make it quickly and easily attach and align itself to cover and even clean the touchscreen of Apple's tablet. The covers were developed alongside the iPad 2, which features additional internal magnets to properly align the cover automatically.
In addition to covering the screen, the Smart Cover can also be folded to prop up the iPad 2 for a keyboard stand or for using FaceTime and watching movies. An option in the iOS operating system also makes the Smart Cover automatically unlock the iPad 2 when it is removed, and re-lock the screen once it is put back in place.