First look: Apple's Cards offers quality & convenience at a low price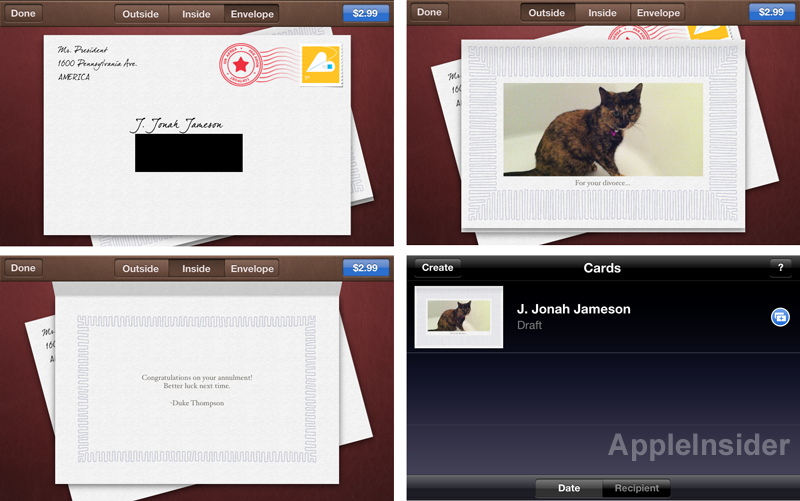 AppleInsider is supported by its audience and may earn commission as an Amazon Associate and affiliate partner on qualifying purchases. These affiliate partnerships do not influence our editorial content.
One completely unexpected announcement made by Apple at this month's iPhone 4S media event was Cards, a new application that lets iPhone users quickly and easily order a custom-printed greeting card.
Apple's Cards business is not entirely new, as the company has been in the printing business for some time with iPhoto. With iPhoto Print Products, customers have been able to create and order their own photo books, letterpress cards, calendars and prints.
Last October, when Apple unveiled iLife '11, it introduced letterpress cards that could be ordered through iPhoto '11. Using what Apple has called a "centuries-old printing method," letterpress cards were originally available through iPhoto, and have now come to the iPhone and iPod touch.
The letterpress design chosen by a user is physically pressed to "ultra-premium paper," and users' digital photos and text are then printed on the card. The paper used by Apple for iPhoto and Cards is textured and of high quality, while the letterpress designs leave an indentation on the paper that can be felt with your fingertips.
But what Cards adds to the process is the ability to quickly create a card on the go on your iPhone or iPod touch. Forgot about Mom's birthday? Save yourself a trip to Hallmark by building and mailing your own custom card with Cards.
Cards is a free application available on the App Store, and it works as promised. I tried building a card with the software while on the go, over a 3G connection on an iPhone 4. The process is simple and easy — and at a cost of just $2.99 with shipping in the U.S. ($4.99 to anywhere in the world), the price is right, too.
Users start creating a card by choosing from 21 different layouts offered by Apple. The iPhone software only operates in landscape mode, and users are able to choose between a variety of designs that range from mostly text to almost all photo.
From there, the outside of the card can be designed. Depending on the layout a user chooses, they can add custom text, choose a photo from their iPhone's Camera Roll, or take a photo immediately with the iPhone camera.
It's the same process for the inside of the card, where custom text can be entered to personalize the letter as needed. For the envelope, users enter a custom return address, and place the name and address of the recipient.
The recipient's name and address can also be chosen from the list of contacts stored on an iPhone or iPod touch. One thing that can't be changed, however, is the stamp: it's a yellow first-class postage stamp with an image of a letter folded into a heart-shaped paper airplane.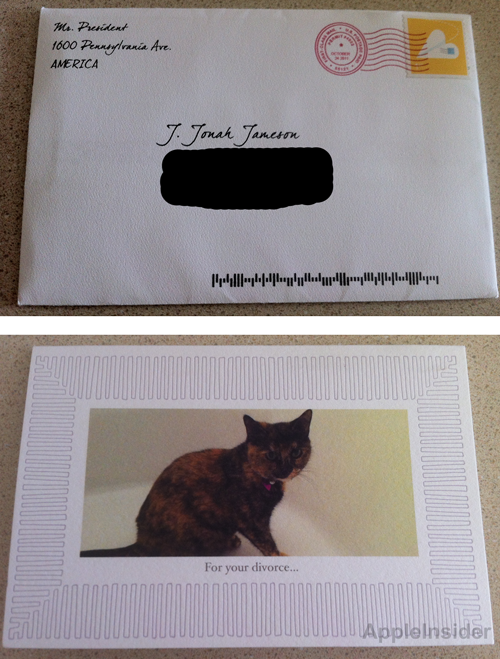 Ordering the card is a snap, accomplished like all other App Store transactions by using your Apple ID and its stored credit card information. After entering your password, the order is placed.
Apple keeps you up to date on the progress of your card, issuing a confirmation for the purchase and another for when the card has been mailed. Using the U.S. Postal Service's Intelligent Mail barcode system, the Cards application will also send a push notification to an iPhone or iPod touch the day a letter is scheduled to arrive.
And it arrives fast. My card was delivered by the USPS just three business days after the order was placed.
When it arrives, the card appears just as advertised, including the font type used for the card and even the mailing envelope. The outer envelope features high-quality textured paper, and makes no mention of the fact that the card was purchased through Apple.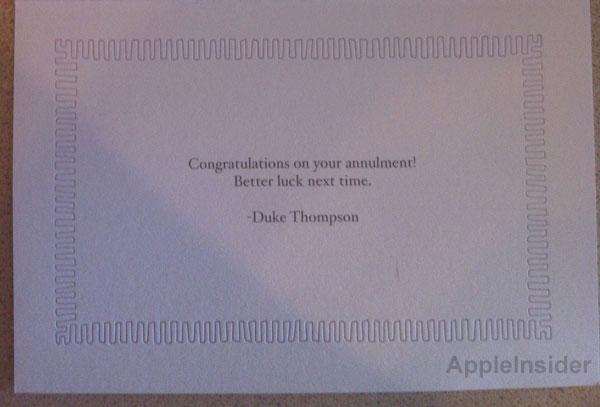 Inside the envelope, once again the card is just as it was shown on the iPhone, with thick paper decorated with Apple's letterpress design and good printing quality on the digital photo selected. Text that is printed on the card is not indented like the available letterpress designs.
Also like the envelope, the card makes no mention of the fact that it was purchased from Apple, so your recipient won't know that your gesture of goodwill may have actually been a last-minute act of desperation. The back of the letterpress card is completely blank.
The Cards application for iPhone and iPod touch is obviously not going to become a major part of Apple's business, and it's unclear just how popular this new offering will prove to be. But at an affordable price with high-quality paper, classy designs, fast turnaround, and total convenience, it's hard not to recommend Apple's Cards to anyone who's interested.