'BlackBerry London' photo claims to show RIM's first BBX OS phone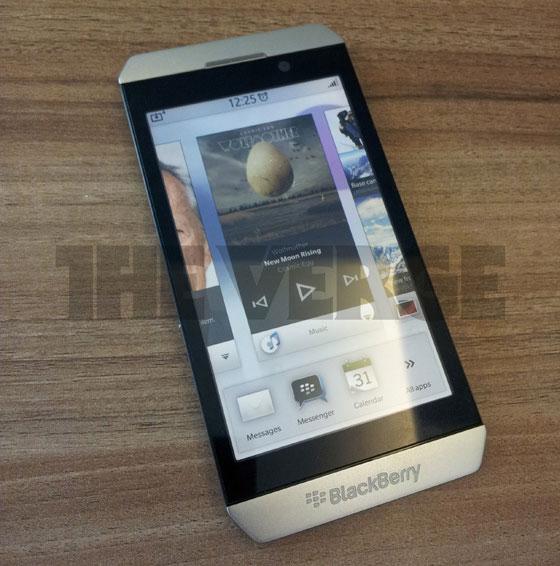 AppleInsider may earn an affiliate commission on purchases made through links on our site.
A new photo allegedly shows Research in Motion's next-generation touchscreen BlackBerry device powered by its new BBX operating system.
The purported picture of the "BlackBerry London" was sent to The Verge, and shows a radical departure from previous RIM devices. The handset is shown with just a touchscreen and no buttons, and lacks the keyboard that has long been a defining feature of many phones in the BlackBerry lineup.
The BBX-powered London shown will allegedly become available in June 2012. The handset is claimed to feature a TI OMAP dual-Core CPU clocked at 1.5Ghz, 1GB of RAM, 16GB of internal storage, an 8-megapixel rear camera, and 2-megapixel front-facing camera.
The person who sent the shot claimed that the London is thinner than Apple's iPhone 4 and iPhone 4S, and is about the same size as a Samsung Galaxy S II. The person also said that the London can be stood up on one of its sides.
"We're told that RIM is also showing off two lower-end devices, as well as the next version of the Torch, which is said to be 'very thin' with a 3.7-inch display and slide-out keyboard," Joshua Topolsky wrote.
RIM's BBX operating system has been long awaited on the company's smartphones since the company bought QNX, which currently powers the BlackBerry PlayBook. The debut of QNX-powered devices, expected in 2012, could prove to be a final shot at redemption for the company, which has been hit hard by the success of Apple's iPhone and devices running Google Android.
In October, market data from comScore showed that RIM's share of the U.S. smartphone market fell 5 percent from May to August of 2011. RIM's losses were by far the largest of any smartphone platform in America, as the BlackBerry slid to take a 19.7 percent total share.
The company's struggles have even gone beyond sales, as RIM has seen a number of service outages across the world in recent weeks. Even Google announced that it would no longer support its native Gmail application written for BlackBerry devices.