RIM called a 'one-trick pony,' company's 'nightmare' seen as benefit to Apple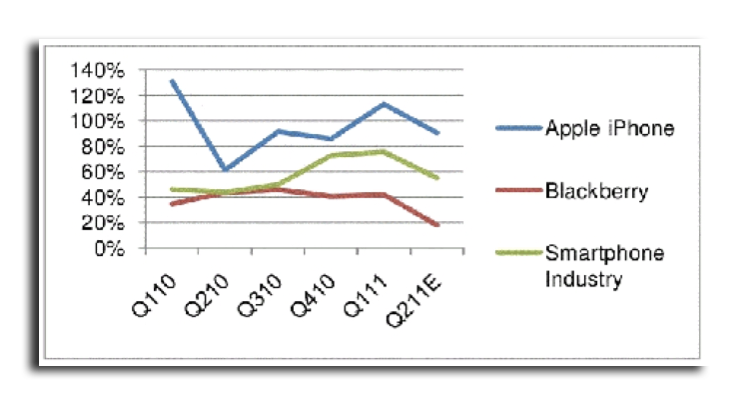 AppleInsider is supported by its audience and may earn commission as an Amazon Associate and affiliate partner on qualifying purchases. These affiliate partnerships do not influence our editorial content.
With Research in Motion's first quarter of fiscal 2012 officially in the books, analysts on Wall Street have begun to pile on the beleaguered smartphone maker, declaring its outlook bleak as competitors like Apple are poised to gain on its losses.
Analyst Charlie Wolf started his note to investors on Friday with a question: "What do you do when your one trick no longer works?" As a "one-trick pony," he believes RIM delivered the "gold standard in messaging service," but little else.
"Consumers now want phones that provide a broad selection of software and services," Wolf said. "RIM has responded far too slowly."
In his view, RIM's one competitive advantage — its proprietary messaging service — will come under attack this fall, when Apple releases iOS 5, with its own proprietary iMessage application. Apple's solution, which Wolf called "effectively identical" to RIM's BlackBerry Messenger, will allow free messaging between iOS devices: iPhones, iPads and iPod touches. He also expects Google to "copy" the feature for Android phones "as quickly as it can."
The biggest challenge ahead for RIM, in Wolf's view, is to transition its "antiquated" BlackBerry operating system to the QNX operating system that powers its new BlackBerry PlayBook. RIM announced in its earnings on Thursday that it shipped a half-million of its PlayBook in the quarter, beating analyst expectations but not providing a sell-through rate.
Waiting for the QNX operating system to make it to RIM's smartphone is "like waiting for Godot," Wolf said.
"It's unclear when QNZ will be integrated into BlackBerry," he said. "RIM plans to introduce new BlackBerries running on the updated BlackBerry 7.0 operating system this summer. This schedule suggests that BlackBerries running on the QNX operating system are unlikely to arrive before the first calendar quarter of 2012."
Analyst Gene Munster said that the latest earnings from RIM are not a negative for the broader smartphone market. Instead, they just show that RIM has failed to compete against the iPhone and devices running Google Android.
"In the November and February quarters, BlackBerry's handset unit growth has been flat while the overall industry has grown," Munster said. "As touch screen phones continue to dominate the landscape, with RIM's Torch and Storm touch screen offerings that lack the same key features of the iPhone and Android, we believe a slowdown in BlackBerry sales is not an indicator of the overall market."
"When a disaster turns into a nightmare," analyst Brian White wrote of RIM's latest earnings. Like others, he sees the BlackBerry maker's struggles as a benefit to Apple, particularly in the enterprise market.
"Essentially, RIMM is struggling with market share as more innovative smartphones ramp in the market," White said. "We believe the challenges of both Nokia... and RIMM provide Apple's... portfolio with an opportunity for market share gain."
As for the PlayBook and its 500,000 units shipped, RIM did not provide any details on the actual sell-through. White believes that could be a concern for the company in its August quarter, and he does not see the PlayBook making a dent in Apple's iPad sales.