More than anything, kids want Apple's iPad, iPod touch & iPhone for Christmas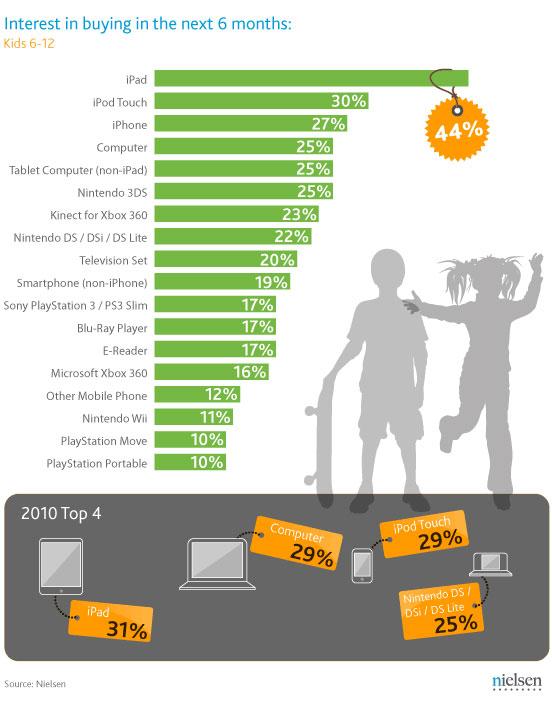 The iPad is the most-wanted gift among U.S. kids ages 6 through 12, a new survey has found, while the iPod touch ranks second and the iPhone comes in third.
Apple's iOS devices dominated the top three spots in the survey of young by Nielsen, which prompted the market research firm to declare the 2011 holiday season "iHoliday." A total of 44 percent of kids ages 6 through 12 said they have interest in getting an iPad in the next six months, while 30 percent want an iPod touch, and 27 percent seek an iPhone.
Apple's popularity among children is likely driven by gaming, as the most popular applications on iOS have consistently been games since the App Store first debuted. The iOS lineup beat out a number of popular gaming machines in the survey, including the Nintendo 3DS, Kinect for Xbox 360, and the Sony PlayStation 3.
Even among teens, the iPad still reigned supreme ahead of the 2011 holiday season. Among children ages 13 and up, 24 percent of those polled said they are interested in buying an iPad in the next six months, beating out a tie at No. 2 between a computer and an e-reader.
Apple's iPhone also made the list with teens in seventh place, taking 15 percent of the vote, and edging out non-iPhone smartphones at 14 percent. The iPod touch game in twelfth with 8 percent, tied with Microsoft's Xbox 360.
Nielsen's survey was conducted in October among a general population sample of 3,000 U.S. children.
For years now, Apple has been promoting its iOS devices as game playing devices. In particular, the iPod touch became marketed largely as a game console beginning in 2009, when Apple declared it the "funnest iPod ever." Since then, advertisements for the device have focused greatly on the wide selection of game titles available on the App Store, and Apple has also offered social networking support with the release of Game Center last year as part of iOS 4.