AppleCare+ now available 30 days after purchase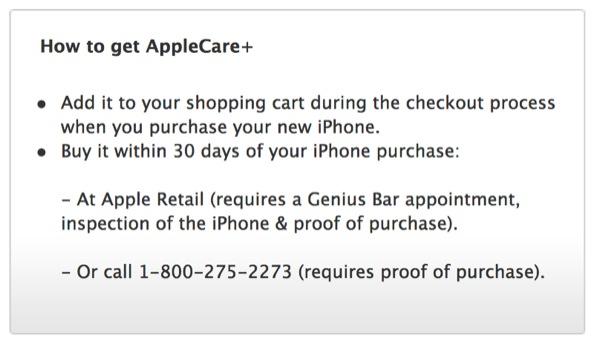 AppleInsider may earn an affiliate commission on purchases made through links on our site.
Apple has amended the terms for its AppleCare+ iPhone warranty and accidental damage coverage, allowing customers 30 days to opt in to the service that was previously only available at time of purchase.
The new extended window is reflected on the company's AppleCare+ site, along with a brief overview of what is covered under the new service Apple launched alongside the iPhone 4S in October.
When the $99 plan was initially announced in October, Apple noted that AppleCare+ must be purchased alongside the iPhone it would cover, however the warranty was unavailable when the company began taking iPhone 4S pre-orders. Subsequently, early adopters didn't have a chance to buy the extended coverage, and were seemingly not able to do so retroactively.
In a later email from Apple, customers not given the option to add on AppleCare+ when they pre-ordered online were offered an extended Nov. 14 deadline to purchase the warranty separately.
As the deadline passed, it was thought Apple would revert the terms back to requiring AppleCare+ be purchased alongside a new iPhone, however the company has opted to continue allowing customers 30 days to sign up for the service.
Under the new guidelines, new iPhone customers who decide to get the warranty after purchase must first bring the unit to a Genius Bar for inspection to ensure the handset is damage free. Proof of purchase is also required.
AppleCare+ extends the standard warranty to two years and for the first time covers up to two accidental damage claims, each subject to a $49 service fee.