Apple expected to launch iPhone 4S in Taiwan on Dec. 14-16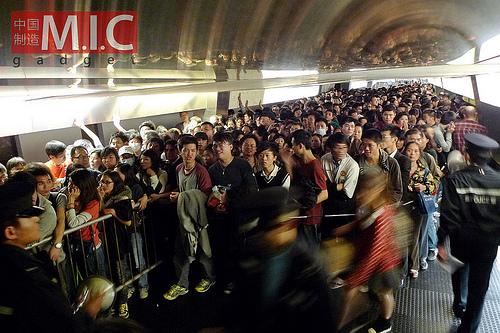 A new report has pegged Dec. 14-16 as a likely timeframe for the release of the iPhone 4S in Taiwan.
Industry sources have told DigiTimes that Taiwan's three largest mobile telecom carriers will begin selling Apple's latest handset next month, though the exact launch date is "up to Apple."
Initial shipments of the device will reportedly be 30,000 units, with 50 percent going to Chunghwa Telecom and 25 percent to Taiwan Mobile and Far EasTone each. The majority of the models will be the 16GB and 32GB versions, sources added, noting that the 64GB version is expected to account for less than 5 percent of inventory.
The carriers are also said to be negotiating with Apple to set the iPhone 4S price within NT$1,000 ($33) of iPhone 4 models with the same capacity. According to the report, retail channel sources have a "conservative opinion" of iPhone 4S sales volumes in Taiwan since "many potential buyers are willing to wait for the next-generation iPhone expected to be launched in mid-2012."
As for mainland China, the publication believes China Unicom will exclusively sell the iPhone 4S at least until the Chinese New Year holiday in late January. Though Apple has yet to announce a launch date for the iPhone 4S in China, recent reports claim that the device has received approval from Chinese regulators and should get the required network access permit within two weeks.
If the launch of the iPhone 4S in Hong Kong is any indication of demand for the device in the Mainland, Apple stands to see breakout sales when the handset arrives in China. Thousands of customers lined up at the IFC Apple Store in Hong Kong for the release earlier this month. One analyst described the scene as a "frenzy," noting that the iPhone sold out within three hours.
This year, Apple has pursued its quickest international rollout ever for the iPhone. After launching in seven countries on Oct. 14, the device arrived in 22 more countries at the end of October. The handset then came out in 15 more countries or regions on Nov. 11.
In the first weekend alone, sales of the iPhone 4S topped four million units, more than double the numbers from last year's iPhone 4 launch weekend. Apple CEO Tim Cook said last month that he's confident the company will set an "all-time record" for iPhone sales this quarter.