Hong Kong iPhone 4S launch sells out after thousands line up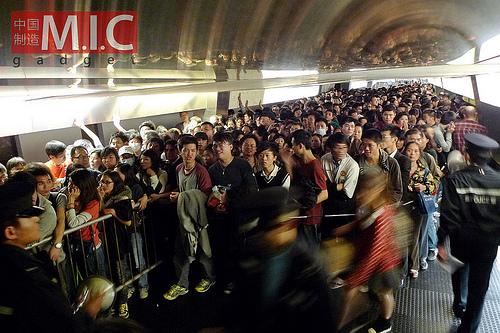 Apple's flagship retail store in Hong Kong reportedly sold out of iPhone 4S units by lunchtime after Friday's launch of the popular smartphone attracted a crowd of more than 3,000 people.
Despite clashes between customers and professional queuers earlier in the week, Friday's 7 a.m. launch at the IFC Apple Store ran "rather smoothly," according to Twitter user PenguinSix.
Police had broken up a crowd of 400 to 500 people in line for Apple's new handset on Wednesday night after scalpers allegedly threatened customers. On Thursday, a mix of security officials, Apple employes and police officers worked to create holding pens for queuers. According to M.I.C. Gadget, 50 pens were set up with 25 people in each one.
Behind the 1,250 people waiting in pens, more than 2,000 people waited in an unofficial line, the report noted.
PenguinSix reported that the official Apple Store had sold out of the smartphones "at lunch time," though some nearby carrier stores requiring contracts for purchases were said to still have stock.
Hong Kong is experiencing significant pent up demand for the iPhone 4S, as preorders for the device sold out in 10 minutes, according to one analyst.
A number of the iPhone 4S purchases are presumably bound for mainland China, where the device has yet to launch. According to some reports, queuers can make as much as HK$1,000 ($129) off of each iPhone by selling the handsets to gray market resellers in Hong Kong and the mainland. For the Friday's launch, Apple capped individual purchases at five iPhone 4S units, enough for some scalpers to make as much as a month's salary for their time in line.
The IFC Apple Store opened in September to large crowds as the company's first official retail location in the city. The iPhone maker's focus on Greater China has already begun to pay off, as sales in the region reached a record $4.5 billion last quarter.
"The China progress has been amazing," said CEO Tim Cook, adding the area shows "enormous opportunity for the company."
Apple is also set to launch the iPhone 4S in South Korea, Albania, Armenia, Bulgaria, El Salvador, Greece, Guatemala, Malta, Montenegro, New Zealand, Panama, Poland, Portugal, and Romania on Friday.