iPhone 4S quickly jumps to second-most popular camera phone on Flickr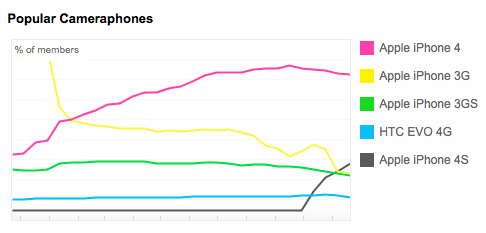 Little more than a month after arriving on the market, Apple's latest handset has already become the second-most popular camera phone on photo sharing website Flickr, behind only its predecessor, the iPhone 4.
The iPhone 4S passed up its older siblings the iPhone 3G and iPhone 3GS, as well as the HTC EVO 4G, the only Android phone on the list, to take second place among camera phones on Flickr, MacRumors pointed out on Monday. The iPhone 4 still maintains a sizable margin on its successor, though that gap is, of course, expected to shorten in coming months.
In the meantime, the iPhone 4 continues to reign as the most popular camera in the whole Flickr community, followed by digital SLR cameras from Nikon and Canon. Apple's best-selling fourth-generation handset took the top spot several months ago.
Apple has pleased photography enthusiasts with the iPhone 4S, which features an upgrade to 8-megapixels, a high-end infrared filter, a face detection feature, and full HD 1080p video recording capabilities with image stabilization. A recent shootout between the iPhone 4S and a comparable DSLR, point-and-shoot digital camera and an Android smartphone by ArsTechnica revealed that the iPhone 4S is a convenient "great alternative" to digital cameras.
In addition to enthusiasts, professionals have spoken out in praise of the iPhone's picture-taking capabilities. Renowned photographer Annie Liebovitz recently called the iPhone the "snapshot camera of today."
"I'm still learning how to use mine," she said. "It's great. It's a pencil, it's a pen, it's a notebook. I can't tell you how many times I see people show me their children. It's the wallet with the family pictures in it. It is so accessible and easy."
As photography on Apple's iPhone has grown ever more popular, even prompting the creation of a new word — "iPhoneography," some analysts have begun to speculate that the device could heavily disrupt the digital camera market in addition to the mobile phone industry. Market research firm IHS iSuppli suggested last summer that shipments of digital cameras will fall as consumers turn to smartphones and tablets such as the iPhone and iPad. Cisco's Flip video cameras have already become an early casualty.
The iPhone 4S is poised to smash Apple's previous iPhone sales records this quarter. The device already got off to a hot start, with four million sold in its first weekend. Analysts believe the company could sell as many as 29 million iPhones in the December quarter, though those estimates include a mix of iPhone 3GS and iPhone 4 units as well.