Motorola wins major injunction against Apple's iPhone, iPad in Germany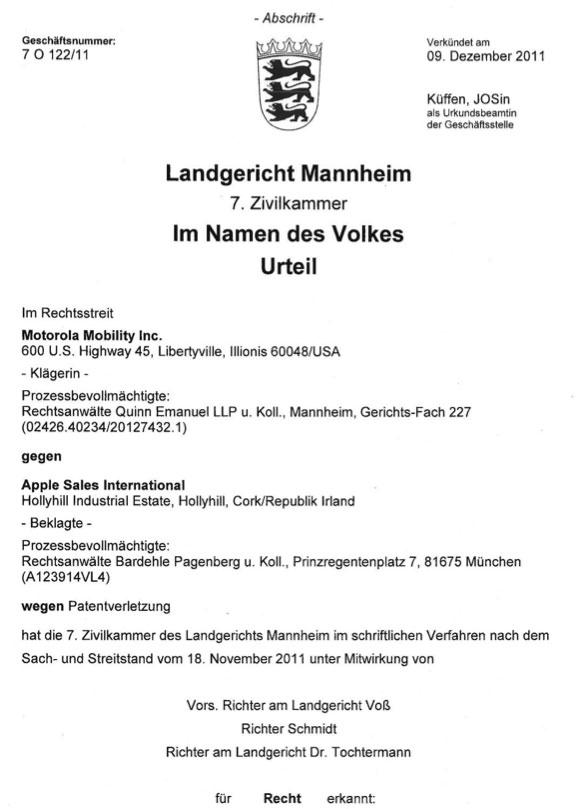 Motorola Mobility on Friday won a major patent infringement decision against Apple in Germany, a ruling that includes an injunction against the iPhone and 3G-capable iPads.
Motorola's victory relates to European Patent 1010336 (B1), entitled "Method for Performing a Countdown Function During a Mobile-originated Transfer for a Packet Radio System." According to Florian Mueller of FOSS Patents, the patent was declared essential to the General Packet Radio Service (GPRS) standard.
"The ruling generally relates to all Apple products that implement the patent-in-suit," Mueller wrote. "The ruling notes that, 'inter alia,' this includes the iPhone, iPhone 3G, iPhone 3GS, iPhone 4, iPad 3G and iPad 2 3G. But the iPhone 4S, which was released after this litigation started (April 2011), undoubtedly implements the same telecommunications standard."
Friday's decision is the first substantive ruling in the court battle between Motorola and Apple. A month ago, Motorola won a default judgment in the same German patent case, but the ruling was declared largely procedural, and did not affect sales of Apple products.
But Friday's ruling will force Apple to make a move. One option for the company is to modify its products by removing the patented feature to avoid further infringement.
"It remains to be seen whether this is a commercially viable option for Apple," Mueller wrote. "This feature could be somewhat fundamental to wireless data transfers in general."
It's likely that Apple will appeal the decision to the Karlsruhe Higher Regional Court and request a stay for the remainder of the appellate proceedings, Mueller said. Or Apple could attempt to license the patent included in the suit.