Apple chosen as top online electronics retailer in customer survey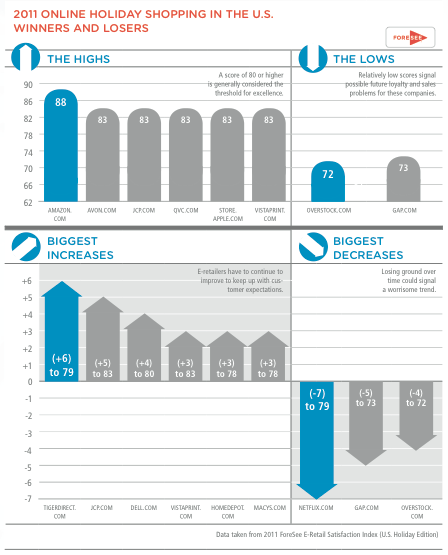 A new customer satisfaction survey has again placed Apple as the top computers and electronics retailer with the second-highest score overall, behind only online retail giant Amazon.
ForeSee Results published the results of the holiday edition of its U.S. E-Retail Satisfaction Index early Wednesday, as noted by TechCrunch. According to the survey, which polled more than 8,500 customers using the American Customer Satisfaction Index methodology, Amazon had the highest satisfaction rating with a score of 88 out of 100, while Apple tied for second overall with several other retailers, including Avon and JC Penney.
Among electronics retailers, Apple was first with a score of 83, followed by Newegg.com with 82 points. The Cupertino, Calif., company also took the top spot among electronics retailers last May.
A score of 80 is "generally considered the threshold for excellence," the report noted. Amazon's score of 88 was the highest score ever reported since ForeSee initiated the survey. The firm has conducted the survey twice a year for seven years now.
Apple and Amazon have overlapped as retailers for years, but 2011 saw increasing competition on Amazon's part. The company opened up its Amazon Appstore, which sells applications for Google's Android operating system, in March, in spite of a trademark lawsuit from Apple over the "App Store" name. In November, the retailer released its Kindle Fire tablet, which is believed to have quickly jumped to second place in the tablet market, behind only Apple's iPad.
While the two companies were among the winners for customer satisfaction this holiday season, the report named Netflix as a loser in 2011. After a rocky few months following several missteps, Netflix, which had been neck-and-neck with Amazon in years past, saw a sharp drop in customer satisfaction, losing 7 points to receive a score of 79.
The company upset customers earlier this year by increasing prices for physical DVD rentals. Subscriber backlash prompted Netflix to spin off its DVD-by-mail service. However, a second wave of customer dissatisfaction caused Netflix to cancel the spinoff.
But, Netflix's losses were a rare exception this year, as, customers were, overall, one point more satisfied in 2011 than last year, when the average score was 78. This year's rating matched the record high of 79 set in 2009.
According to the firm, customer satisfaction plays a strong part in the long-term prospects of online retailers. Highly satisfied shoppers reported being 64 percent more likely to consider a retailer again when compared to shoppers who were dissatisfied with a website. Satisfied consumers were more likely to return to the retailer's site, recommend it and stay loyal to the brand.
Satisfaction also appears to have a direct effect on a retailer's revenues. On average, a one-point change in satisfaction of a website resulted in a 14 percent change in online revenue.