CES: Live report on the Steve Ballmer Keynote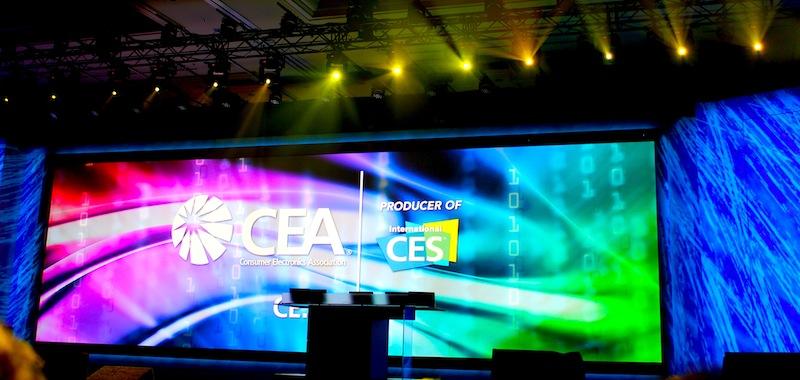 AppleInsider is supported by its audience and may earn commission as an Amazon Associate and affiliate partner on qualifying purchases. These affiliate partnerships do not influence our editorial content.
Microsoft chief executive Steve Ballmer launched this year's Las Vegas Consumer Electronics Show tonight in what will become the company's last of a long, unbroken string of keynotes kicking off the show.
Microsoft said it would give up its monopoly on giving the event's keynote address this year, explaining that the timing of CES doesn't fit its product release schedule. That was one of the same reasons Apple gave for pulling out of Macworld Expo three years ago, the same year that Ballmer took over the task of giving the CES keynote in place of Bill Gates.
Over the previous decade however, Microsoft rarely presented any big surprises related to new products in its CES keynote that were ready for imminent release.
In 2009 Ballmer outlined Microsoft's plans for Windows 7 and multitouch initiatives. The following year he unveiled Slate PC alongside HP, very unfortunately timed just days before the release of Apple's iPad. Last year Ballmer simply gave a broad status update on the company's various PC, tablet and smartphone software platforms.
As the trade show itself grows obsolete from the vast reach and immediacy of the Internet, Ballmer's 2012 CES keynote offers a final taste of the passing era of big keynotes, a format sensationalized by Steve Jobs through his last decade of increasingly exciting presentations dripping with spectacular reveals, dramatic pauses and dangling "one more thing" to the delight of the transfixed nerds in the audience.
AppleInsider is attending this year's CES event, and as as it turned out, managed to snag a third row seat among VIP attendees in the front and center of Ballmer's presentation. Here is, as resources and network bandwidth allow, a live report on how it went. You can also watch for Twitter updates at @DanielEran
Playing Ke$ha "(Place about to) Blow," really loud, such a different experience from the type of music Apple would play at an event. Seems like there should be fireworks and robots shooting sparks from their hands.
Chief executive of CEA (throwing the show) is recounting a history of event keynotes. Explained, "Microsoft keynotes drove press to this show," but for CES to be fresh, "we agreed to a pause." The more they explain what they're doing, the more desperately suspicious this all seems.
"Gratitude and goodwill to Microsoft," he continues, making it sound like a retirement speech. Presents Ballmer with a souvenir. Ballmer then leaves the stage, and they start playing the most annoying music video ever: sounds like Weird Al spoofing bad white rap-electro. Comes across as oddly worship-like. It finally ends and it gets applause from what sounds like three people.
Ryan Seacrest takes the stage, introduces Ballmer again, who says he will present "fast, fluid, dynamic" stuff that will impress people about how it "lights everything up."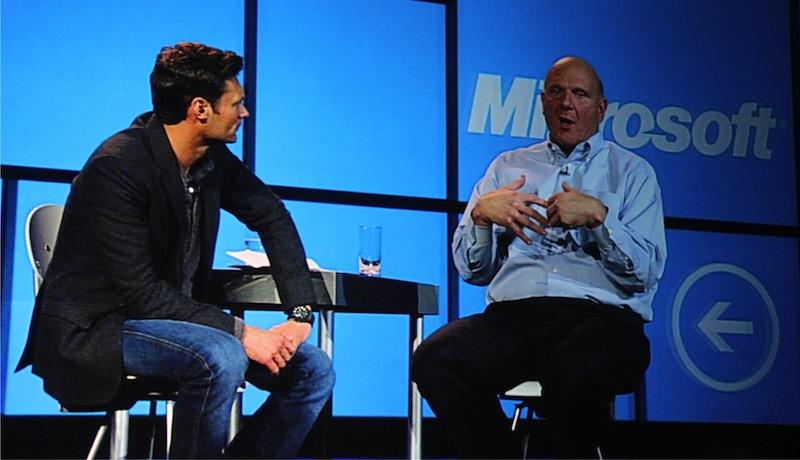 Slide of Windows Phone goes up and a small section of the audience starts cheering. Seacrest points out it must be the design department. Nobody else is even politely clapping in the entire room. This is incredibly bizarre. Ballmer notes that Windows Phone is "the first phone that puts people first," pulls out his own, showing how Bill Gates recently called him, and other things important to him are displayed, rather than incoming emails (a clear shot at Apple's push notifications).
Ballmer doesn't do anything to show how WP7 actually works though. Cut to demo so someone else can demonstrate the phone, another vast difference from Apple's keynotes. Presenter is actually showing how WP7 is different, explaining the "people hub" concept, where a group of people are shown along with all their contacts, social network updates, and so on.
States that unlike competitors' proprietary iMessage (Apple) or BES (RIM), WP7 supports the chat protocols people actually use, which he says are Facebook chat and Windows Live Messenger.
Next demo point: integrated voice support. He speaks "sounds great" into the phone to send that as a text, but WP7 takes a while to respond, then only recognizes "sound."
Jumps to how great Metro looks. Then starts demonstrating Bing local search (like Yelp, but integrated and using the Metro tiles interface). Shows how WP7 and Bing integration scraps information from multiple web sites, then launches apps to perform functions like creating a dinner reservation. I'm having trouble seeing why people think Metro offers some interesting new user interface.
Every time they say anything about Windows Phone, the developer section goes nuts. They should have mixed these people around the room.
Ballmer is showing off new Nokia Lumia phones and the HTC Titan, calling out features that are hard to keep up with. So different than Apple's focus on one product with a clear outline of why it's supposed to be good, what it offers, and what the price will be. "Nothing better than good competition" Ballmer says.
Speaking of Windows, Ballmer says "people don't want to compromise what they have today," suggesting that the iPad doesn't offer enough desktop features, and that Windows 8 tablets will. Seacrest and Ballmer are speaking in front of a huge animated distracting wall of Metro-like icons. Why is this happening!?
A loud, pumping video of rapidly cut beauty shots of various laptops from several PC makers is begin shown. "Which PC are you?" it asks. "Laptops build for Windows."
Chief marketing officer of Windows Tami Reller appears to talk about what Windows 8 means. "Delivers a no-compromise experience," she says. Power of a PC with the mobility of a tablet. Highlighting how one can customize the lock screen, even unlock the screen by clicking various secret bits of the picture (rather than entering a password).
"Designed to work with touch, and a keyboard," she adds. Swipe from the right to reveal "charms" essentially the Start menu rendered as icons. Metro style apps will offer a "Full Screen" mode like Mac OS X Lion so "the things you want to do are front and center."
Demonstrates an X86-based Samsung tablet using a Core i5 (the developer prototype released earlier). Notes that new Metro apps will run on both x86 and ARM processors. Begins highlighting apps store. Didn't catch anything about conventional Windows desktop apps running on new ARM hardware. Starts demonstrating "Cut the Rope," which seems like a strange choice for a "powerful desktop computer platform."
Demonstrating "Semantic zoom" - app tiles scale down or up via touch. Can also use a mouse to zoom in (sort of like Exposé, but with app icons that animate like widgets).
It is interesting that Microsoft is inventing entirely new ways to do things that really have very little in common with the standard windowing user interface, and bear very little resemblance to how iOS works.
Given how slowly Windows XP users were to embrace the far less dramatic differences of Windows Vista, it seems strange that Microsoft would abandon the Windows desktop almost wholesale to deliver an entirely new user interface that is completely original and wildly different.
Unlike iOS, this isn't confined to a new product; Microsoft is planning to radially change the PC as it works today, making it a hybrid mix of the conventional Windows 7 desktop and the wildly different Metro user interface. New tablets appear to be Metro only, although this isn't being clarified.
The next update to Windows 8 in February. "This is the perfect time to get a new PC!" Reller says, "Windows 7 now, Windows 8 later."
"Every Windows 7 PC will be ready to run Windows 8," Baller stated.
Brings on stage a "Tweet Choir" to dramatically sing a series of tweets related to Microsoft at CES. Stunningly awkward.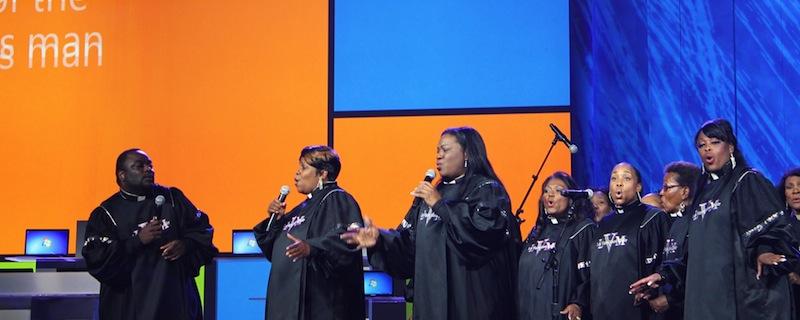 Talking about Xbox and Kinect. Craig Davison, senior director of Xbox on stage. Demonstrating new Metro-themed Xbox interface. Showing navigation of the interface using voice (he speaks the names of menus and the menus shift focus). Search content in the Xbox, looks for Star Trek then pulls up various service renting those titles (Netflix, Vudo, Zune Video store). Can speak commands to pause playback.
Speaks "Xbox go home" to go to the home page, for example. Seems a bit like what we had for speech recognition in the late 80s, but never got around to actually using. Says Comcast and Verizon will be launching new TV content on Xbox for their subscribers, joining AT&T Uverse. News Corp adding Fox, WSJ and IGN content. Scheduled to launch "in 2012." Calling Xbox "your all in one entertainment device for the living room."
Shows an Xbox app on a new Nokia WP7 phone that lets you search content using the same features.
Promises two-way interactive TV programming, and brings on a presenter to demonstrate interactive episodes of "Sesame Street." It's like "Dragon's Lair" for children. Or like a remedial Flash game on TV, although kids can interact with various gestures. It's not clear how kids would know how to navigate with such TV programs unless they are very well designed. Without a script, I doubt if the child being coached through the demo would be entertained. Now demonstrating some interactive titles that looks a lot like Eye Toy for Playstation 2.
After a way-too-long demonstration of "interactive TV," Ballmer announces that Kinect for Windows will be released in a couple weeks. Microsoft is working with 200 companies to deliver apps incorporating a motion capture interface.
Wraps up briefly talking about Office and Microsoft's cloud initiatives, then Ballmer tells Seacrest that "what's next" is all about Windows 8, and also about spreading "Metro! Metro! Metro!" across platforms, and then chants "Windows! Windows! Windows!"
And it's over. Windows events are strange.