Students' math scores jumped 20% with iPad textbooks, publisher says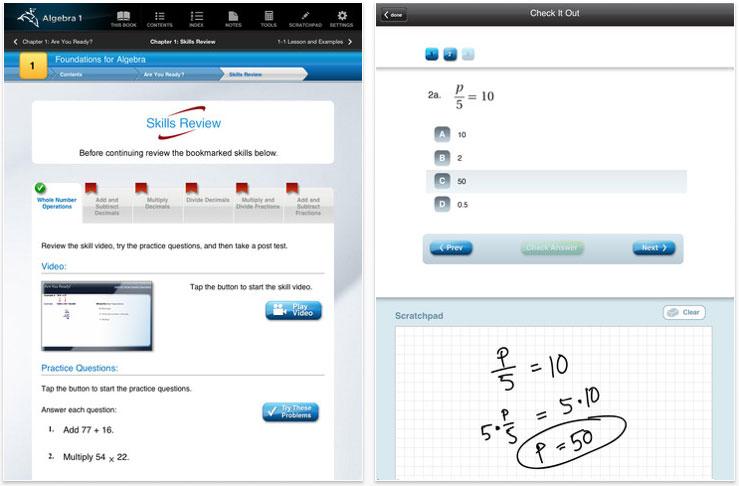 AppleInsider may earn an affiliate commission on purchases made through links on our site.
A yearlong pilot program with digital textbooks on Apple's iPad found that students' algebra scores increased by 20 percent when compared to a curriculum with traditional books.
On the heels of Apple's e-textbook announcement in New York City this week, publisher Houghton Mifflin Harcourt announced the results of its "HMC Fuse: Algebra I" pilot program at Ameila Earhart Middle School in California's Riverside Unified School District. The Algebra I digital textbook is touted as the world's first full-curriculum algebra application developed exclusively for Apple's iPad.
In its test run, the "HMH Fuse" application helped more than 78 percent of students score "Proficient" or "Advanced" on the spring 2011 California Standards Test. That was significantly higher than the 59 percent of peers who used traditional textbooks.
"By engineering a comprehensive platform that combines the best learning material with technology that embraces students' strengths and addresses their weaknesses, we've gone far beyond the capabilities of an e-book to turn a one-way math lesson into an engaging, interactive, supportive learning experience," said Bethlam Forsa, executive vice president of Global Content and Product Development at HMH. "With HMH Fuse, teachers can assess student progress in real time and tailor instruction as needed."
The first pilot program took place during the second trimester of the 2010-2011 school year, when students using "HMH Fuse" were said to have scored an average of 10 points higher than their peers. But that number jumped even higher for the California Standards Test in spring 2011, when "HMH Fuse" students scored about 20 percent higher than students who used traditional textbooks.
Earhart math teachers Dan Sbur and Jackie Davis were among the first to use the new digital tool on Apple's iPad. Both said they were encouraged by the initial run and the positive effect it had on students' scores.
"Students' interaction with the device was more personal," Earhart Principal Coleman Kells said. "You could tell the students were more engaged. Using the iPad was more normal, more understandable for them."
A white paper on the HMH Fuse Pilot Program is available for download from the publisher. Other schools and students can download the "HMH Fuse Shell" applications available for free on the iPad App Store, with curriculums available as in-app purchases within the applications.