Acer, Asustek, Lenovo expected to begin adopting Thunderbolt this spring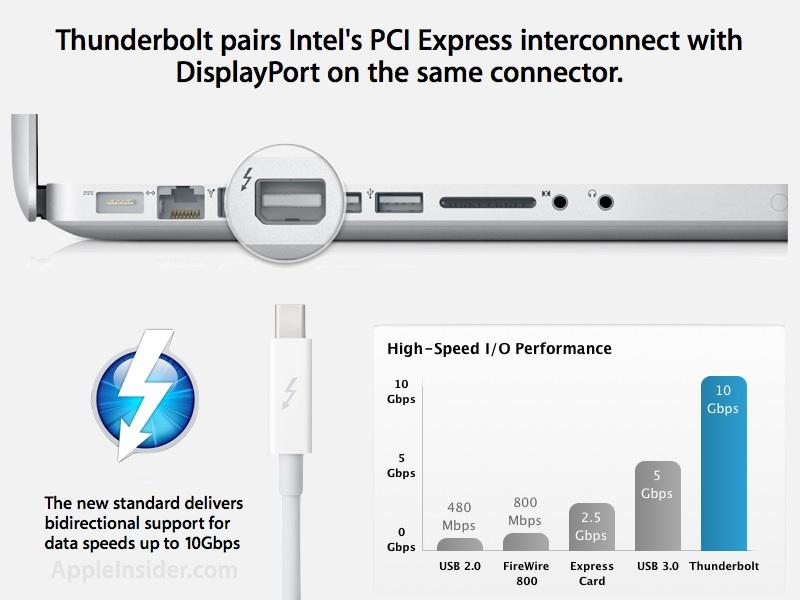 Apple won't be the only PC maker selling high-end notebooks that look like the MacBook Air and pack Thunderbolt connectivity; Acer, Asustek, Lenovo are expected to introduce new Thunderbolt-equipped Ultrabooks in the second quarter of 2012.
According to a report by DigiTimes, all three PC makers are expected to introduce new Ultrabooks incorporating Intel's Ivy Bridge platform with support for Thunderbolt.
The site also says logic board maker Gigabyte Technology "will take the initiative to offer Thunderbolt-enabled motherboards."
Intel's next Ivy Bridge chip platform, the successor to Sandy Bridge, includes native support for USB 3.0, but does not support Thunderbolt across the board. Support for Thunderbolt increases the cost of PCs by more than $20, it said.
As a result, Thunderbolt is "only expected to be adopted among high-end notebooks or desktops in 2012." The new Intel-driven standard for PCI Express data paired with DisplayPort video is however expected to be "fully standardized by 2013."
Apple aggressively rolled out support for Thunderbolt last year, adding it to all of its Mac product lines apart from the Mac Pro, which already has PCI Express slots. Thunderbolt hard drives and other devices have started to trickle into the market behind Apple's own Thunderbolt Display, with docks and external PCIe slot enclosures being shown at CES this month.
DigiTimes previously forecast last month that "several first-tier" PC vendors would be readying Thunderbolt-equipped motherboards, notebooks and desktop computers for release by April, naming only Sony and Asus (a brand built by Asustek).
Sony released a VAIO laptop and dock that was initially described as the first non-Mac system to use the standard, but it was later revealed that the company had used an early version of Intel's technology that did not match the Thunderbolt specification.
HP, currently the world's largest PC maker, has stated it would exclusively support USB 3.0 because it could not see the "value proposition" of Thunderbolt.
Intel describes both standards as complementary, while some in the PC supply chain have expressed concern that Thunderbolt and its 10Gbps data connection speed could "greatly affect" adoption of the competing USB 3.0 port in the future.
DigiTimes has a somewhat spotty record in reporting future developments, predicting last fall, for example, that Apple's next iPhone would have a metal back and that its screen would use a larger, nearly 4 inch panel. However, the site seems to have better accuracy in reporting on general industry trends among PC makers, where secrecy isn't regarded as paramount.