President Obama points to Steve Jobs' ingenuity in State of the Union address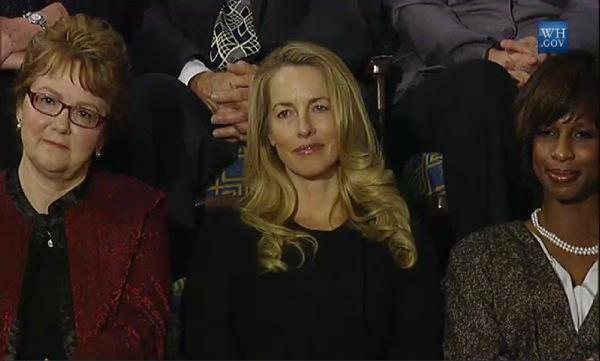 U.S. President Barack Obama mentioned late Apple co-founder Steve Jobs as an example of America's best and brightest during the State of the Union address on Tuesday, which was attended by Jobs' widow Laurene Powell Jobs.
President Obama referred to the former Apple CEO during the early portion of his hour-long speech, and gave a knowing glance to Powell Jobs as he said the following:
You see, an economy built to last is one where we encourage the talent and ingenuity of every person in this country. That means women should earn equal pay for equal work. It means we should support everyone who's willing to work; and every risk-taker and entrepreneur who aspires to become the next Steve Jobs.
Powell Jobs was seated almost directly behind First Lady Michelle Obama in the balcony box of the U.S. Capitol's House of Representatives chamber during the President's annual address to the nation.
Laurene Powell Jobs during the 2012 State of the Union address | Source: WhiteHouse.gov
In context, President Obama mentioned Jobs as part of the country's education and ways to jump-start the economy, and went on to declare that U.S. lawmakers need to come to a consensus on immigration reform to stop allowing potential workers from leaving the country.
Earlier reports noted that Powell Jobs had been personally invited to attend the yearly address as a guest of the First Lady. She was joined other official guests including Debbie Bosanek, secretary to billionaire stock guru Warren Buffett and symbol of President Obama's tax reform plan, Astronaut and husband of Congresswoman Gabrielle Giffords, Captain Mark Kelly, USN, Ret. and Admiral William McRaven, USN who is credited for organizing and executing the mission that led to the death of Osama bin Laden.