Apple's universal remote concept hints at future television set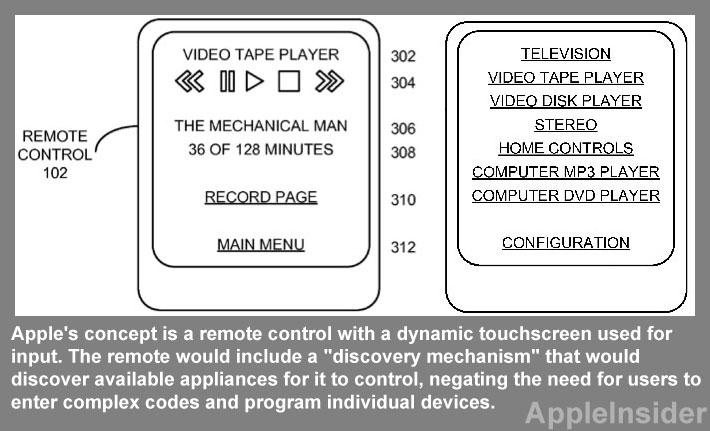 AppleInsider is supported by its audience and may earn commission as an Amazon Associate and affiliate partner on qualifying purchases. These affiliate partnerships do not influence our editorial content.
Apple has shown interest in building a new, simplified remote control that would automatically control a variety of devices while reducing setup and frustration for the user.
The concept was revealed this week in a new patent application discovered by AppleInsider. Entitled "Apparatus and Method to Facilitate Universal Remote Control," it describes a touchscreen-based controller that would reduce the confusing clutter found on current universal remotes.
The filing notes that current remotes have a large number of buttons and switches to control the functions of a device, and while those buttons are necessary to control all of the functions, the average user typically only uses a handful of the buttons.
"The controls that are not normally used clutter the remote control and can cause confusion to the user when trying to locate a seldom-used feature," the filing notes.
It also details how current universal remotes are even more complex to operate than the basic remotes that ship with specific devices, like a television set or receiver. And often times, those universal remotes cannot replicate some of the tasks found on the original remote.
"Hence, users must spend time learning a new remote control or programming an existing universal remote each time they purchase a new remotely controllable appliance, which detracts from the enjoyment of using the appliance after it is first purchased," Apple's application states. "What is needed is an apparatus and a method to provide remote control over multiple appliances without the difficulties described above."
Apple's proposed solution is a remote control with a dynamic touchscreen used for input. The remote would include a "discovery mechanism" that would discover available appliances for it to control, negating the need for users to enter complex codes and program individual devices.
The filing describes a remote controlling one or more of a television, video players, a stereo, a "smart home" control system, and even a Mac. The document notes that the controller could also be used beyond electronic appliances, and could control programs and functions on a computer, like allowing a user to play songs on iTunes on their Mac or PC.
Apple's solution would simplify the user interface by having devices wirelessly transmit a specific interface for that device. The remote would receive this customized button layout, and dynamically present input options to the user without the clutter of a typical button-based universal remote.
The remote would also detect which appliances are within range of the controller. If, for example, a specific appliance could not be detected, the remote would gray that option out so the user would know it is not available.
The proposed invention, made public this week by the U.S. Patent and Trademark Office, was first filed in September of 2011. It is credited to Albert Vidal.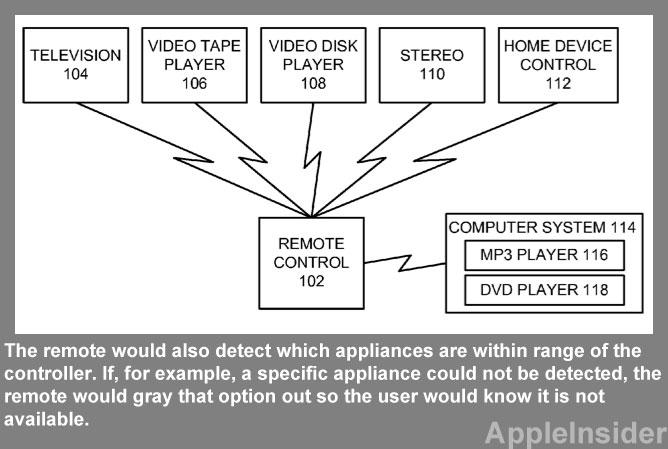 the application is particularly noteworthy as rumors of a full-fledged Apple television set have gained considerable steam since the release of Walter Isaacson's biography of Steve Jobs late last year. Jobs told his biographer that he had "cracked" the concept for a television set with "the simplest user interface you could imagine."
Various reports have suggested that Apple's television could be controlled through Siri, Apple's voice recognition and personal assistant software currently found on the iPhone 4S. But at times when voice control would not be ideal, Apple could also allow a back-up remote much like the one described in the newly unveiled patent application.
Another patent application detailed earlier this month by AppleInsider also offered a glimpse of how Apple could produce superior picture quality with advanced backlighting technology. The proposed invention is similar to how current LED-backlit television sets offer "local dimming," which allows dark images on the screen to display truer blacks and more accurate colors.