German court dismisses Motorola's 3G-related suit against Apple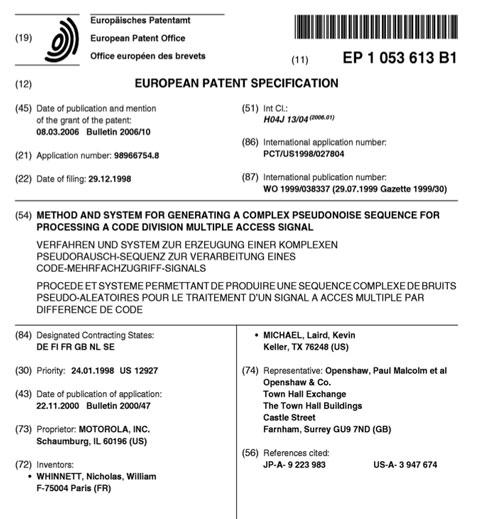 A German court has ruled that Apple's wireless products do not infringe on inventions related to 3G/UMTS owned by rival Motorola Mobility.
Judge Andreas Voss of the Mannheim Regional Court ruled on Friday that Motorola would not be awarded an injunction against Apple's products for the patent in question. As detailed by Florian Mueller of FOSS Patents, Motorola had declared its own patent "essential," not any standard setting organization, but the court disagreed with Motorola.
Specifically, Judge Voss determined that Apple did not infringe on claim 9 of European Patent 1053613, entitled "Code and System for Generating a Complex Pseudonoise Sequence for Processing a Code Division Multiple Access [CDMA] Signal." The court found that Motorola failed to present conclusive evidence for infringement.
The victory by Apple in Mannheim was noteworthy because Motorola has already won two earlier patent infringement cases against Apple in that German court. In December, Motorola won a decision related to a GPRS patent, and last week Motorola was awarded an injunction against Apple related to its push services.
It's expected that Motorola will seek to enforce the injunction on the latter patent ruling as soon as possible. That means German iCloud users could soon need to reconfigure their e-mail clients or move to another service.
Motorola is in the process of a planned buyout from Google, owner of the Android mobile operating system that is already found on many of Motorola's products. The two companies are seeking regulatory approval for the $12.5 billion purchase to be finalized.