Apple reportedly revamping iAd to rekindle interest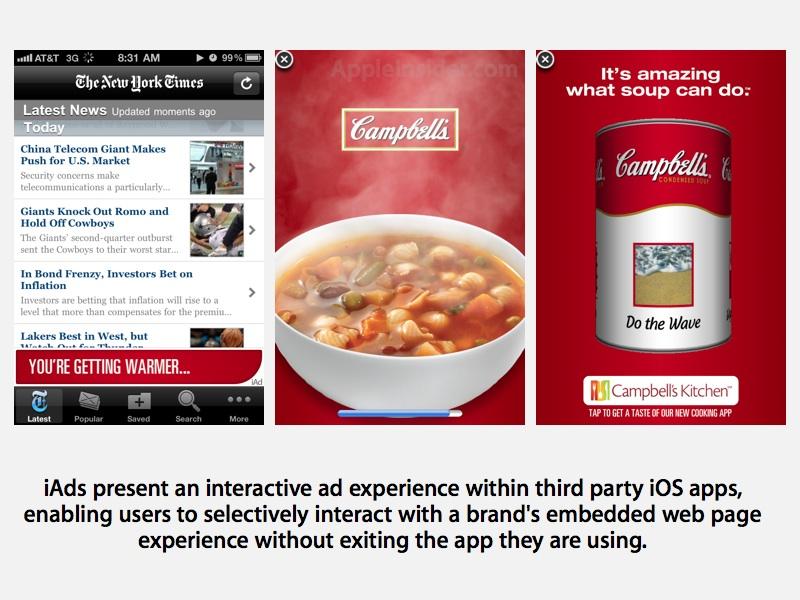 AppleInsider is supported by its audience and may earn commission as an Amazon Associate and affiliate partner on qualifying purchases. These affiliate partnerships do not influence our editorial content.
Faced with diminishing interest in its iAd service, Apple has made substantial changes to the struggling advertising platform, such as reducing the minimum campaign amount, increasing developer revenue share and adjusting its fees, according to a new report.
Little more than a month after former Adobe executive Todd Teresi joined Apple to head up the iAd division, the company's advertising service is undergoing a drastic shakeup, AdAge claimed on Tuesday.
Advertisers can now reportedly spend as little as $100,000 to initiate mobile campaigns, down from a $300,000 threshold noted last July. The new minimum represents just a fraction of the lofty $1 million minimum when the service launched in 2010 and the $500,000 entry price from last February.
Apple is also said to have increased the developer cut of ad revenues to 70 percent, up from a previous 60 percent share. According to the report, the money will compensate app makers for "lower ad rates" and is an attempt to court more developers to monetize their apps through iAd.
The Cupertino, Calif., iPhone maker is believed to have done away with a fee system that charged advertisers twice for their ads. iAd has reportedly abandoned per-click fees and now only charges a fixed rate for every 1,000 ad impressions.
The report highlighted the revamp as the "biggest reset" for iAd since its inception. Apple made waves with iAd when it first arrived, attracting several big-name brands to run high-profile campaigns. However, the initial excitement surrounding the service has since faded considerably.
iAd's struggles have prompted some to begin ringing a death knell for it. Late last year, The Wall Street Journal called iAd a disaster, noting advertisers' response as "tepid." One IDC analyst told the publication that iAd would "fade into the background" over time.
Though Apple's share of the mobile advertising market declined from 2010 to 2011, it managed to hold onto a 15 percent share, behind only Google and Millennial Media, last year.
iAd arose out of Apple's $275 million purchase of Quattro Wireless in late 2009. The company had previously been interested in acquiring AdMob, but Google snatched up the agency before Apple was able to finalize a deal.
Though Apple has been relatively quiet about iAd in recent months, it did revamp its iAd producer software last November, adding animation tools, page objects and code-editing improvements in an effort to drum up support for the service.