Gatekeeper is hidden in OS X 10.7.3 Lion, developers can preview it now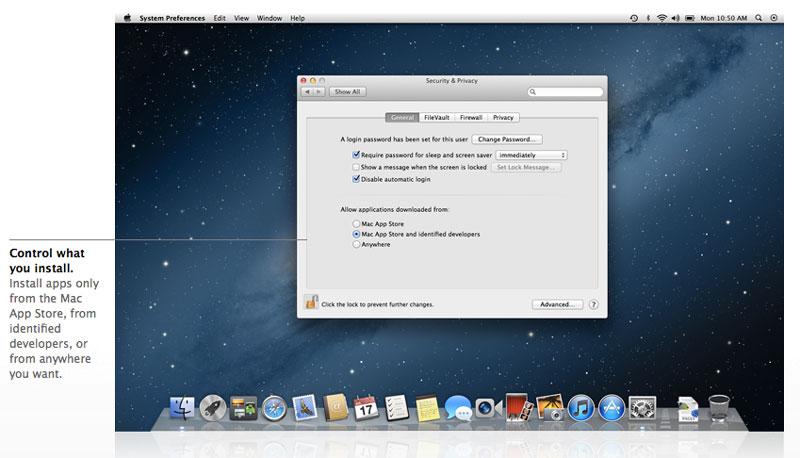 Though it will formally debut later this year in Mountain Lion, Apple has secretly included its new Gatekeeper feature in OS X 10.7.3 Lion, and developers can enable it now to test it.
Apple revealed to developers on Thursday that Gatekeeper is available but disabled in OS X 10.7.3. It informs them that it can be turned on by using the new OS X system policy control command-line tool "spctl(8)".
The command-line tool can be enabled with the command "sudo spctl — enable" and to turn it off, a developer can simply type "sudo spctl — disable".
The hidden feature is a way for developers to test their applications with Gatekeeper and Apple's new Developer ID Program. Gatekeeper is currently of no use to end users in Lion, as developers have not yet begun to add Developer ID credentials to their applications.
Apple has said that Gatekeeper is designed to help prevent users from "unknowingly downloading and installing malicious software." Mountain Lion users will have the option of only allowing software from the Mac App Store, installing Mac App Store applications in addition to identified developers, or allowing applications to be installed from anywhere.
Developers were also provided on Thursday with a new build of Safari in the form of version 5.2 for Lion. Available for download through Apple's development center, it includes visual and user interface tweaks, like merging the search and address bars.
Developers can also download the new Xcode 4.4, which includes compiler support for Objective-C enhancements and an editor for Collada 3D files. It requires OS X 10.8 Mountain Lion or OS X 10.7.3 Lion, and is required for developers to test Mountain lion applications.
AppleInsider has affiliate partnerships and may earn commission on products purchased through affiliate links. These partnerships do not influence our editorial content.