Customers report receiving shipment notifications for new iPad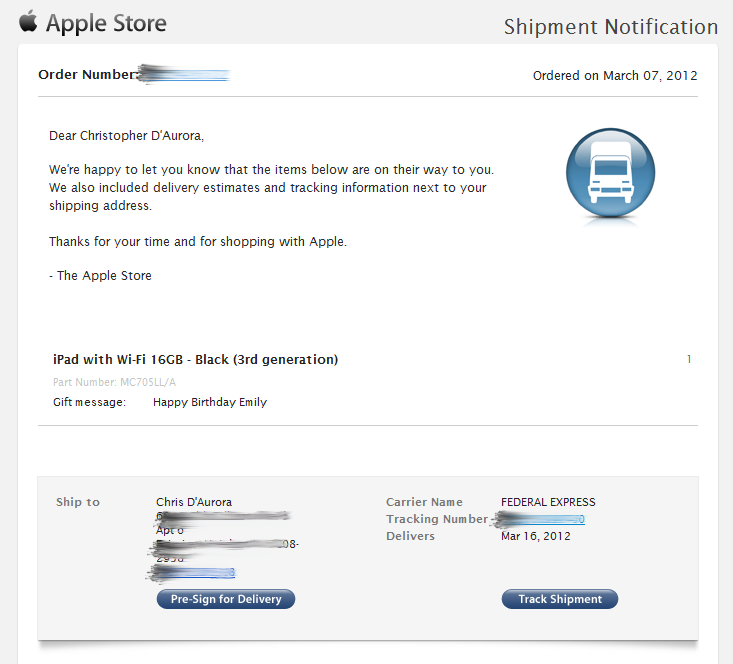 AppleInsider may earn an affiliate commission on purchases made through links on our site.
Customers are reporting having received shipment notifications from Apple for preorders of the third-generation iPad, with delivery scheduled for March 16, the official release date.
AppleInsider reader Chris D'Aurora submitted a screenshot of an alleged shipment notification from Apple for a pre-order placed on Wednesday.
"We're happy to let you know that the items below are on their way to you," the notification read.
The device in question is a 16GB black iPad with Wi-Fi. The package was reportedly shipped through Federal Express and was listed as on track for delivery on March 16.
Engadget reports that several of its readers have received shipping references as well. Some them have also received UPS tracking numbers indicating the iPads are shipping from China.
Apple unveiled the third-generation iPad on Wednesday in San Francisco. The new tablet features a Retina Display, optional 4G LTE, a faster processor and a 5-megapixel camera. It will launch first in the U.S., Australia, Canada, France, Germany, Hong Kong, Japan, Puerto Rico, Singapore, Switzerland, UK and the US Virgin Islands on Friday, March 16.
The third-generation iPad launch could be significantly larger than last year's iPad 2 launch, which landed in the U.S. first before going international two weeks later. U.S. pre-orders for the iPad appear to be going strong so far, as some models of the device are no longer available for launch day delivery. The white 16GB and 64GB Wi-Fi + 4G AT&T iPad models are currently listed as shipping by March 19.
Wall Street's reaction to the new iPad has been positive overall. Several analysts view the accelerated international rollout as a potential sign of an upside to iPad shipments this quarter.