Apple closes at record high, confounding advice to sell at iPad launch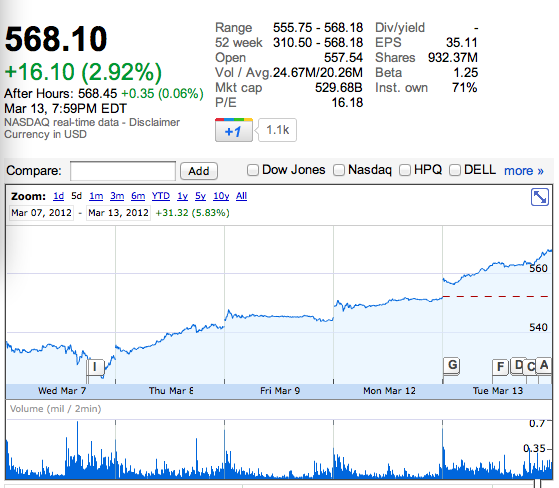 Apple's stock price has gained 5.83 percent since last week's unveiling of the new iPad, crushing advisors who thought that the release would provide a good opportunity to sell.
Apple closed at $568.10 per share, a new all time high just 8 cents below the 52 week high set during the trading day.
The new high set the company's market cap at $529.68 billion - that's less than a half billion less than the annual American military budget, but now $120 billion higher than Exxon Mobil, which had been neck and neck with Apple in market cap over the past two quarters.
Apple's market cap (the value of all outstanding shares in the company) is now greater than the market cap of Google, HP, RIM and Microsoft combined.
And while the company's stock was already up 46.11 percent for the year, it's up another nearly 6 percent since the iPad event last Wednesday, a time pinpointed by a variety of pundits as a good opportunity to sell.
The day before the iPad event, Motley Fool writer Anders Bylund provided "4 Reasons to Sell Apple Today," recounting among other things that Apple's "cool factor is fading fast."
He was joined by a variety of other pundits who described previous stock price drops at or around new product introductions. Apple's stock briefly fell nearly 10 percent after the release of iPad 2 last spring, but has since climbed nearly 54 percent over the past year.