Apple loses appeal of $1.2M AppleCare ruling in Italy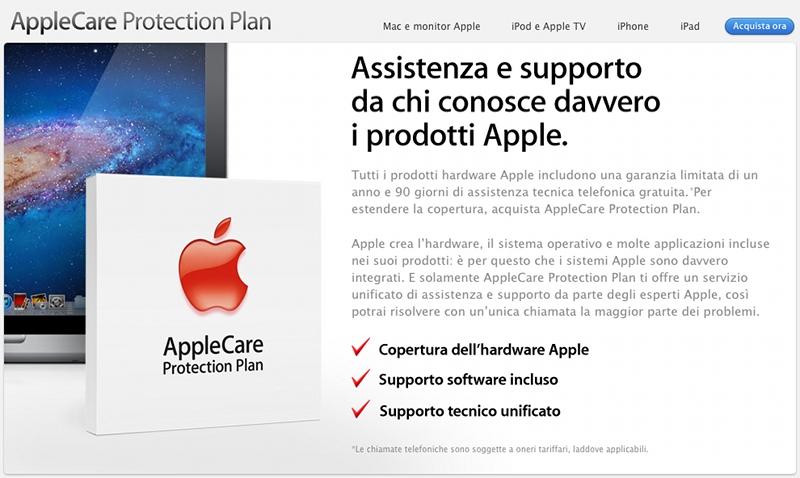 Apple lost an appeal of an Italian case that fined the company 900,000 euros, or roughly $1.2 million, for allegedly not furnishing an adequate amount of information regarding mandated product guarantees and warranty stipulations.
The Thursday decision (machine translation) handed down by Chairman Robert Politi of Lazio, Italy's Regional Administrative Court concerns an Apple appeal to a December 2011 ruling in which the company was fined 400,000 euros for not providing information about the length of product guarantees and an additional 500,000 euros for lack of information regarding extended AppleCare warranties, reports la Repubblica.
The fine is the direct result of a 2011 investigation into alleged "unfair commercial practices" that found Apple pushed its paid two-year AppleCare warranty on consumers despite acknowledging that EU laws require companies to offer the same protections without charge.
Apple complied with the December order to inform online customers of the mandated two-year warranty, though it later appealed the $1.2 million fine.
According to Thursday's ruling, Apple must add a disclaimer on its packaging informing customers of the existing two years of mandatory coverage. The issue will be discussed at a separate hearing on May 9 along with other matters regarding the decision.
Apple's Italian AppleCare webpage. | Source: Apple
The Cupertino, Calif., company can file for a second appeal though it is there has been no official announcement as to when this will happen.
AppleCare goes above and beyond the standard one-year warranty and is available for all of Apple's electronic devices including the company's line of Mac computers, the iPhone and the iPad. Cost differs depending on the product, but coverage includes over-the-phone and in-store repair support.
The company launched the premium AppleCare+ program, which adds accidental damage to the list of support options, alongside the iPhone 4S in 2011.