Nearly half of U.S. corporations issuing Macs to employees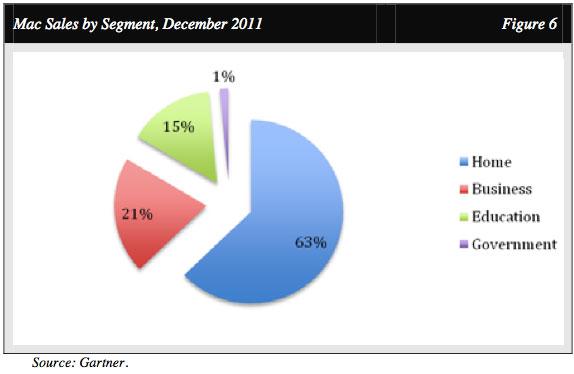 AppleInsider is supported by its audience and may earn commission as an Amazon Associate and affiliate partner on qualifying purchases. These affiliate partnerships do not influence our editorial content.
With about 46 percent of corporations handing out Apple computers to their workers it would seem that OS X is slowly currying favor with chief information officers, though the final count depends on the workers themselves and many are not yet ready to make the leap to Mac.
Apple is seeing a bump in the number of businesses issuing Macs to their employees due in part to more appealing pricing, but the actual number of workers per company who are issued the computers is still a small slice of the overall enterprise pie, reports CIO Journal.
Apple's business sales grew 50.9 percent at the end of 2011 which accounted for a 34.9% year-to-year growth in total Mac shipments.
According to CBS Interactive CTO Peter Yared, the cost of rolling out an enterprise Mac solution is becoming a more viable option. About 100-150 Macs are being brought in to select CBS brands each quarter to replace older Windows PCs for roughly 2,500 employees.
"It used to be cost-prohibitive to run Macs in the enterprise, and that equation changed recently with the MacBook Air," Yared said.
While the Air's price-of-entry is higher than offerings from competing Windows units, Yared said that the end cost is comparable as he would have needed to buy peripherals like docking stations and solid state drives for each employee.
Another factor is the contrast in desktop environment. Yared's decision to begin implementing Macs in the workplace was partly fueled by expectations of his charges in San Francisco who were accustomed to using Apple devices.
"People aren't going to step into a time machine when they go to work, it makes them very frustrated and it makes it hard to attract and retain top talent," Yared said.
According to research firm Forrester, a significant portion of Mac adoption relies on Apple's other products.
"The use of iPads and iPhones in the workplace is creating increased awareness and consideration of Macs," said Forrester Vice President and Principal Analyst Frank Gillett.
The halo effect might be in force at some smaller startup companies, though cost structure is making the Mac more attractive for large multi-nationals like Cisco.
Cisco CIO Rebecca Jacoby said that about 16,000 employees, or one quarter of the company's 63,870 total workers, use Macs with the concentration of users hovering between 20-30 percent depending on country.
"It does cost a lot more than a standard-issue PC, so in order to absorb that cost, we made tradeoffs in the way we actually do the service structure for it," Jacoby said. "IT backs it but it's also the [Cisco employee] community that supports it, which ends up being a much more cost-effective support mechanism for us and we can make it cost neutral."
Despite the wider adoption, many corporations are finding that many employees are resistant to switch over to Mac after years of using enterprise solutions from Windows.
Forrester found that while 46 percent of corporations now issue Macs, only 7 percent of computers given to employees run Apple's OS.
Yared gave the example of accountants being hesitant in switching to Mac because they use programs like Microsoft Excel, which is presented slightly differently on OS X than Windows. The ability of running two operating systems is a non-factor as tech chiefs don't want to spend the money to purchase two licenses for one computer.

While Windows currently dominates the enterprise space, the evidence is pointing to marked Apple gains in the sector. Employees and managers are looking for ways to streamline the workplace, and the usability of the Mac ecosystem seems to be attracting more corporations. A testament to the platform's ease of use is what Yared called the biggest surprise in integrating Macs: people didn't need any training to get up and running.