Mac business sales surge 51% as Apple continues to invade the enterprise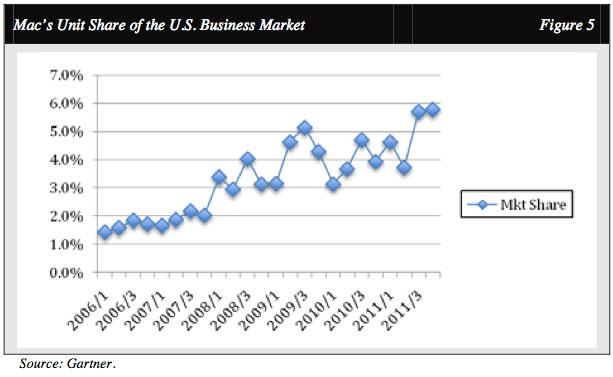 AppleInsider is supported by its audience and may earn commission as an Amazon Associate and affiliate partner on qualifying purchases. These affiliate partnerships do not influence our editorial content.
Mac business sales grew a massive 50.9 percent at the end of 2011, easily outpacing Apple's market leading overall growth in Mac sales.
In a closer look at Mac sales, analyst Charlie Wolf with Needham & Company revealed in a note to investors on Monday that sales in the business market represented 20.5 percent of total Mac sales in the December quarter. But business sales accounted for 34.9 percent of year-over-year total shipment growth for the Mac platform.
Apple now represents 2.9 percent of total business PC sales worldwide, more than double its share of 1.3 percent in the first quarter of 2010. But Apple's presence in the enterprise is even greater in the U.S., hitting 5.8 percent in the December quarter, up from 3.1 percent in the first quarter of 2010.
Wolf said Apple has continuously added features to OS X to make it integrate more seamlessly into Microsoft's network environment. One key step in that process was the introduction of BootCamp in 2006, allowing Intel-based Macs to run Windows.
Other key additions were third-party virtualization software from Parallels and VMWare which allow users to run Windows applications natively alongside Mac applications, as well as Microsoft's additions to Exchange to offer better Mac support.
"But these developments merely set the table," Wolf said. "They did not provide a compelling reason for businesses to purchase Macs."
In his view, the credit belongs to the iPhone and, even more, the iPad. By becoming acquainted with Apple's products, businesses have looked more favorably on the company's tightly integrated ecosystem.
Even with faster growth in the enterprise, Mac sales to users at home remains by far Apple's largest market segment. Home Mac sales represented 63 percent of total Mac sales in the December quarter, while business sales accounted for 21 percent. Education was 15 percent of Mac sales, while government took 1 percent.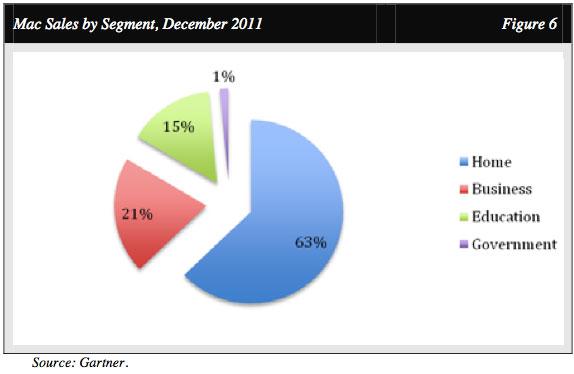 Wolf has closely followed Mac sales in the enterprise for some time now, and declared last May that Apple's huge inroads made in the business market have made the Mac's presence in the corporate world a "durable platform" for the company.
Mac enterprise sales largely stagnated between 2007 and 2009. But in 2010 — the same year the iPad debuted — the trend reversed, and Apple has seen two straight years of tremendous growth in the enterprise.