Intel reportedly shipping next-gen Thunderbolt controllers expected in new Macs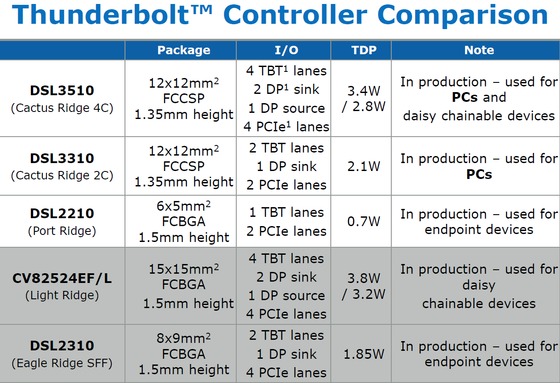 AppleInsider is supported by its audience and may earn commission as an Amazon Associate and affiliate partner on qualifying purchases. These affiliate partnerships do not influence our editorial content.
Chipmaker Intel has begun shipping its second generation of Thunderbolt controllers, which are believed to be bound for Apple's upcoming Mac releases, according to a new report.
Vr-Zone claimed on Thursday to have received confirmation that Intel is "finally shipping" the controllers, codenamed "Cactus Ridge." The report also said that a "handful" of PC motherboards had been delayed because of the controllers, while noting that it was a "minor issue."
The publication expects the controllers to make their way into upcoming iMac and MacBook Pros. New Mac Pro systems could also add Thunderbolt support, though the future of Apple's professional line of desktops remains uncertain.
Intel will reportedly offer two Thunderbolt solutions for its next-generation Ivy Bridge chips. The 12x12mm DSL3310 controller chip has two lanes of PCI Express bandwidth and uses 2.1W of power, while the DSL3510 provides four PCI express lanes and draws 2.8W.
"The DSL3510 can also be used for daisy chainable devices and as such it would be a lower cost, smaller and more power efficient alternative to the original Light Ridge or CV82524 chipset," the report noted.
Author LG Nilsson speculated that Apple will most likely use the DSL 3310 for its notebooks and the DSL 3510 for its desktop systems. The addition of support for multiple DisplayPort inputs on the DSL3510 could allow the chip to interface with both discrete and integrated graphics, according to the report.
A third controller, DSL2210, is a cheaper alternative that could be used for external storage devices. The chip, however, doesn't support daisy chaining.
The arrival of the next generation of Thunderbolt controllers may provide further evidence that Apple is on the verge of releasing new laptops. Multiple authorized resellers have run low on supplies of the company's 15-inch MacBook Pros ahead of the expected launch of Intel's Ivy Bridge processors.
Intel launched the Thunderbolt technology last February alongside Apple's early 2011 MacBook Pro models. More than a year later, Apple's competitors are gearing up to release their own Thunderbolt-equipped ultrabooks as early as this quarter.
Future plans for Thunderbolt include the addition of optical cables that will accommodate longer lengths and eventually faster speeds. Intel has also voiced commitment to support the PCI-Express 3.0 standard, which will feature a bit rate of up to 8 gigtransfers per second.