Intel promises optical Thunderbolt cables will arrive later this year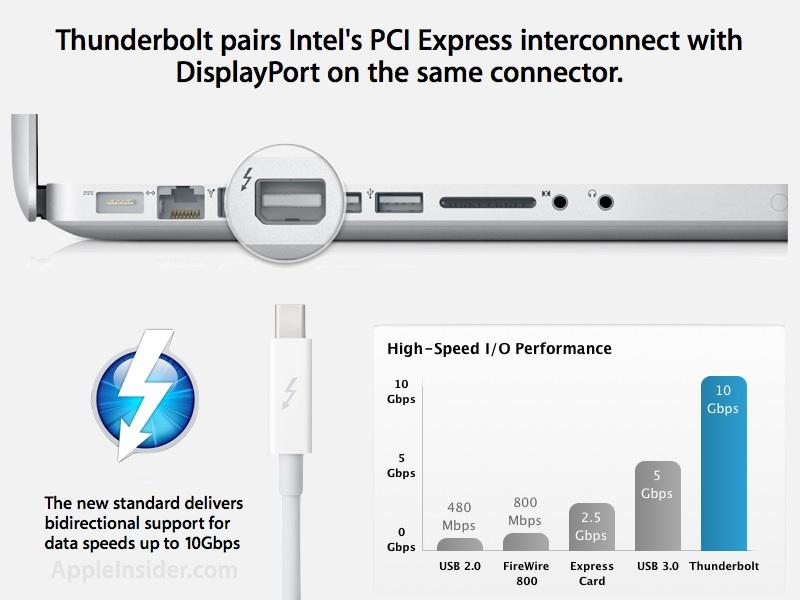 AppleInsider is supported by its audience and may earn commission as an Amazon Associate and affiliate partner on qualifying purchases. These affiliate partnerships do not influence our editorial content.
Intel said on Monday that optical cables for its Thunderbolt port are scheduled to arrive later this year and will allow for longer cables and eventually faster speeds.
The world's largest chipmaker issued a statement on Monday confirming its plans to release the new cables this year, IDG News Service reports. Current Thunderbolt cables utilize copper with a maximum effective length of six meters.
Intel spokesman Dave Salvador told the publication that optical cables will support data transfers over distances of tens of meters. As the technology develops, they will also make broader bandwidth a possibility. However, one downside to the optical cables is that connected devices will require their own power supplies.
The current generation of copper Thunderbolt cables can provide up to 10 watts of power, but power over longer optical cables would suffer from an "impedance-induced power drop," according to the report.
Intel declined to provide more detailed timing on when the new cables will arrive and how much they will cost. First-generation Thunderbolt ports will, however, be compatible with the new optical cables.
Last week, the chipmaker indicated that it intends to support the PCI-Express 3.0 protocol. Thunderbolt currently works with PCI-Express 2.0 technology. PCIe 3.0 is capable of moving data at 8 giga transfers per second, a step up from the 5 gigatransfers per second speed of PCIe 2.0.
Intel and Apple released Thunderbolt little more than a year ago with the unveiling of the Early 2011 MacBook Pro. The technology couples Intel's work on a "Light Peak" optical connector with Apple's Mini DisplayPort standard to achieve two channels of 10Gbps transfers in both directions, simultaneously.
Apple added Thunderbolt to most of its Mac lineup throughout 2011. Available Thunderbolt accessories have remained relatively sparse, though. The company released a Thunderbolt Display last July and several external drive options (1, 2) exist for the technology.
Apple's official $49 Thunderbolt cable was released last June. It measures 2 meters in length and can connect two Thunderbolt-equipped Macs. A subsequent teardown of the cable revealed that it implements transceivers at either end of the cable to improve reliability when transferring data at high speeds.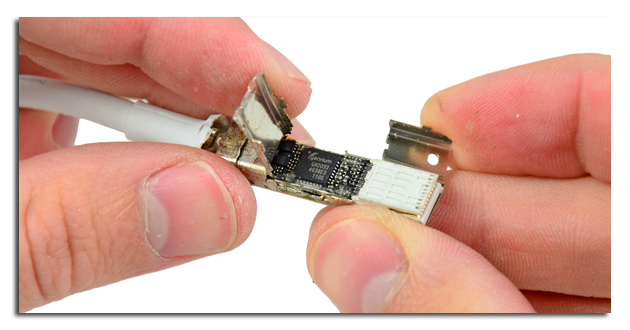 Teardown of Apple's $49 Thunderbolt Cable | Source:iFixit
PC makers are expected to introduce Thunderbolt-equipped Ultrabooks in the second quarter of this year. Acer, Asustek and Lenovo and been named as vendors interested in implementing the I/O. Lenovo has already announced Thunderbolt-equipped Thinkpad laptops that will be released later this year.