Apple releases $49 Thunderbolt cable, offers external RAID systems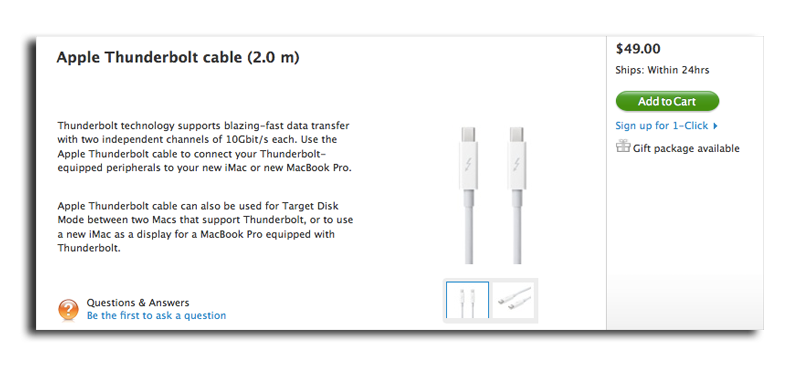 AppleInsider is supported by its audience and may earn commission as an Amazon Associate and affiliate partner on qualifying purchases. These affiliate partnerships do not influence our editorial content.
Apple on Tuesday added a new $49 Thunderbolt high-speed data cable to its online store, as well as a handful of external RAID storage options starting at $999.
The new Thunderbolt cable measures 2 meters and supports the next-generation data port found on Apple's latest iMacs and MacBook Pros. Thunderbolt offers two independent channels of 10Gbit/s each.
The official Apple Thunderbolt cable allows users to connect Thunderbolt peripherals, but it can also be used for Target Disk Mode between two Macs. The cable can also be used to make a Thunderbolt-equipped iMac serve as a display for a new MacBook Pro.
Also available in Apple's online store are a handful of external RAID systems, all of which ship within 24 hours:
Thunderbolt was launched in March, when Apple's new MacBook Pros went on sale. The technology, co-developed by Intel and Apple, utilizes the standard mini DisplayPort connector, but offers high-speed data transfers in addition to external monitor support.
Thunderbolt also appeared on the new iMacs launched in May, and is expected to rapidly appear on the rest of the company's hardware lineup. Tuesday's additions to the Apple online store mark some of the first Thunderbolt-capable accessories available for purchase.
Just last week, LaCie showed off a new Thunderbolt solid-state drive that it will release this summer. The system has two SSDs paired in a RAID 0 configuration offering read speeds of up to 870MB/s.
Though Apple cooperated with Intel on Thunderbolt, the technology is not exclusive to the Mac maker. This week, rival Sony showed off its own proprietary implementation of Thunderbolt, which will arrive on a new laptop in Europe this summer, dubbed the VAIO Z.