LaCie demos "Little Big Disk" Thunderbolt SSD drive coming this summer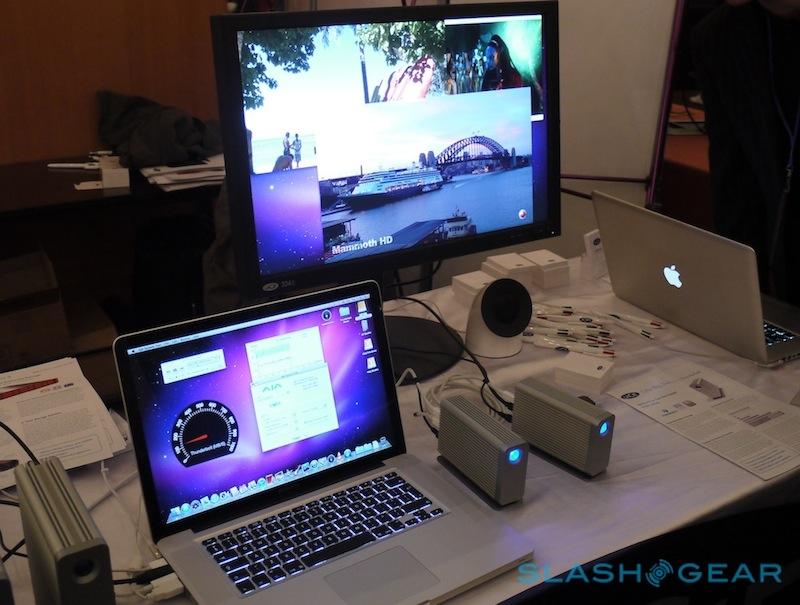 Peripheral and storage maker LaCie's Thunderbolt and Solid-State Drive "Little Big Disk" is coming this summer, with one hands-on preview demonstrating read speeds of 827 MB per second.
The drives, which run a pair of SSD drives configured in RAID 0, were first demonstrated at Intel's launch event for the Thunderbolt I/O technology. Intel partnered up with Apple to pair the chipmaker's codenamed Light Peak technology with the Apple-developed Mini DisplayPort.
SlashGear received a pre-launch demo of the Little Big Disk. The demo setup involved a Core i7 MacBook Pro with daisy-chained LaCie drives and a 24-inch Full HD LCD display.
A raw speed test involving reading and writing 4GB files posted write speeds of up to 352.5 MB per second and read speeds of 827.2 MB per second. Company representatives said the same setup topped 870 MB per second peaks during their own testing.
A second test took three simultaneous video files stored on the drives and played them at 1080p Full HD resolution. According to the report, playback was "stutter-free whether windowed or full-screen," and scrubbing through the clip with the two others running in the background presented no lag or pauses.
The Little Big Disk is due out "sometime over the summer," with production starting soon, according to the report. LaCie has said it plans to offer Thunderbolt-ready HDD versions of the drive, which should be a cheaper option than SSD, but has not indicated a timeline for the HDD model.
Alongside the unveiling of Thunderbolt in February, Apple released new MacBook Pros, the first systems to take advantage of the new technology. In May, Apple updated its iMac all-in-one desktop line to include the Thunderbolt port.
Though Apple does not have an exclusive deal with Intel, the Mac maker's close relationship with Intel may result in as much as a one year head start on PC manufacturers. However, a recent report suggested that the high cost of adding Thunderbolt to peripherals may limit adoption of the standard.
Thunderbolt will likely see more rapid adoption in the high-end video market. At the National Association of Broadcasters convention in April, several vendors demonstrated breakout video boxes that use Thunderbolt.

Job listings reveal Apple is building out its Thunderbolt team to bring the port to new devices.