Apple expanding Thunderbolt team for new devices equipped with high-speed ports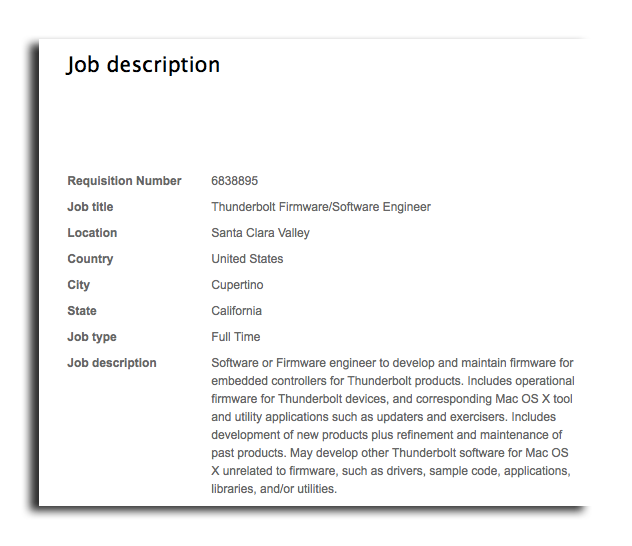 Apple is unsurprisingly looking to bring its new Thunderbolt port to new devices beyond the MacBook Pro, the notoriously secretive company has revealed in new job listings.
This week, on its official corporate hiring site, Apple posted a listing for a new full-time vacancy in the role of "Thunderbolt Software Quality Engineer." The company seeks candidates with at least five years of software quality assurance testing to play a part in testing new hardware and software that will take advantage of Thunderbolt input/output technology.
The ideal candidate will have expertise in testing high-speed buses and PCI-express devices. The position will require the person to test firmware and software on new "world-class products and cutting edge technologies."
The latest job posting joins two other recent Thunderbolt-related hirings, suggesting Apple is hard at work to expand the presence of the high-speed port co-developed with Intel. In addition to a second software quality engineer, Apple is also looking to add an employee for the role of Thunderbolt Firmware/Software Engineer.
The full-time position located at Apple's corporate campus in Cupertino, Calif., will have the engineer "develop and maintain firmware for embedded controllers for Thunderbolt products." The person will craft firmware for Thunderbolt devices, as well as "corresponding Mac OS X tool and utility applications such as updaters and exercisers."
"Includes development of new products plus refinement and maintenance of past products," the official listing reads. "May develop other Thunderbolt software for Mac OS X unrelated to firmware, such as drivers, sample code, applications, libraries, and/or utilities."
The desired candidate for the firmware position would also have experience with ARM processors. That could be a sign that Apple plans to include Thunderbolt technology in future versions of the iPhone or iPad, allowing ultra-fast syncing with a Mac.
Thunderbolt technology debuted this February on Apple's newly updated MacBook Pro notebooks. Formerly code-named "Light Peak," the technology offers data transfer speeds of up to 10Gbps, or 20 times faster than USB 2.0, and twice as fast as USB 3.0.
Thunderbolt ports are fast enough to transfer a full-length high-definition movie in less than 30 seconds, or to back up an MP3 collection large enough to play nonstop for a full year in just 10 minutes. It is based on PCI Express, and uses the same size connector as Apple's Mini DisplayPort.
Because Intel and Apple collaborated in creating Thunderbolt, Apple will have a yearlong head start in deploying the technology on its hardware. It is expected that future updates to Mac products will add Thunderbolt ports as they are released throughout 2011.
This week, Apple was granted a patent by the U.S. Patent and Trademark Office that describes a modified dock connector compatible with new high-speed communication standards, including Thunderbolt. The patent describes a smaller 30-pin dock connector, like the port found on existing iPhones, iPads and iPods, that would include updated communication standards, allowing power, data, video and audio signals.