Apple improving iTunes account security with stricter requirements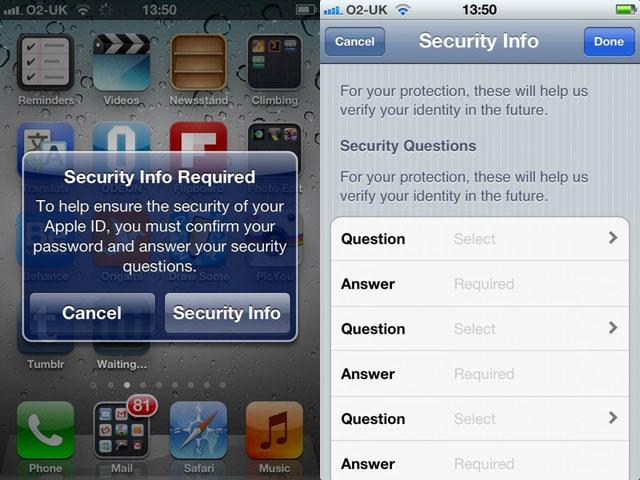 AppleInsider is supported by its audience and may earn commission as an Amazon Associate and affiliate partner on qualifying purchases. These affiliate partnerships do not influence our editorial content.
Apple has begun asking users to select and answer a series of questions associated with their Apple IDs to enhance security measures.
The security prompts began popping up on iOS devices on Wednesday, according to Ars Technica. Users are met with a prompt that states "Security Info Required."
After being shown the message, users are asked to select from a number of security questions and provide personal answers. Users are also prompted to provide a backup e-mail address in case the primary address associated with their Apple ID is compromised.
The changes are meant to curb fraud and phishing attempts that have been used for many years to hijack iTunes accounts. Because credit card information is tied to a user's account, nefarious people will steal and resell accounts, allowing people to buy content like music, movies and applications on someone else's dime.
This week's changes are only the latest in a series of measures by Apple over the years to improve security associated with iTunes accounts. Some of the steps taken include requiring users to verify their account information when they log into new devices, and upgrading passwords to make them more complex with varying characters.
Screens via The Next Web.
Some users have been confused by the new security prompts appearing this week, and have expressed concern on the Apple Support Communities website that the alerts could be bogus phishing attempts. However, the revised measures have been proven to be legitimate, and Apple has admitted they are part of an ongoing effort to bolster security.