Microsoft to invest $300M in Barnes & Noble's Nook e-book platform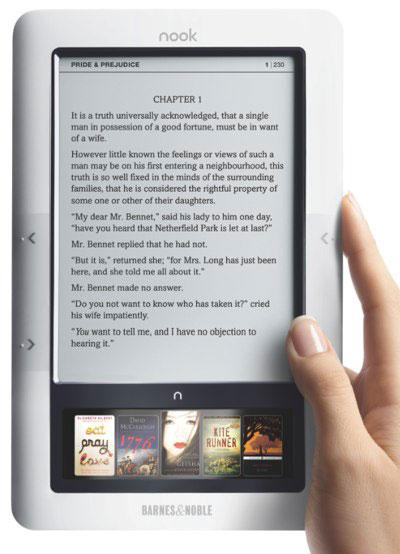 AppleInsider is supported by its audience and may earn commission as an Amazon Associate and affiliate partner on qualifying purchases. These affiliate partnerships do not influence our editorial content.
Microsoft announced on Monday that it will take a $300 million stake in bookseller Barnes & Noble's digital Nook e-book business, potentially paving the way for a new spin-off company.
The new partnership will create a subsidiary that will include not only the Nook business, but also Barnes & Noble's college textbook business as well, according to The Associated Press. The deal also means Barnes & Noble will create a Nook application for Windows 8, much like the company's existing e-book offering for Apple's iPhone and iPad.
Both companies also revealed that they are exploring the possibility of spinning off the e-book and college businesses, which could result in a stock offering or sale.
The partnership places Microsoft in the midst of the e-book business where Barnes & Noble has already been competing with Apple's iBookstore and the Amazon Kindle platform. Apple also increased its push for digital textbooks earlier this year, with the release of iBooks 2 for iOS.
Barnes & Noble also offers education-focused content with its own Nook Study software. That, along with its college booksellers business, will now fall under the umbrella of the new subsidiary, in which Microsoft has a $300 million stake.
"Our complementary assets will accelerate e-reading innovation across a broad range of Windows devices, enabling people to not just read stories, but to be part of them," said Andy Lees, president at Microsoft. "We're on the cusp of a revolution in reading."
Lees was formerly the head of Microsoft's Windows Phone division, but was pulled from that role last December. Microsoft CEO Steve Ballmer said in a memo at the time that he had asked Lees to work in a new, "time-critical" role "focused on driving maximum impact in 2012 with Windows Phone and Windows 8." He said the change would allow Microsoft to "really deliver" the potential Microsoft has with both Windows 8 and Windows Phone.
Though it still operates brick-and-mortar stores that sell hard copies of books, Barnes & Noble has attempted to shift its business to the digital world, selling the Nook e-reader hardware and also offering e-books through its Nook platform on a range of devices. The company lags behind Amazon's Kindle platform, which similarly offers the Kindle e-reader hardware and multi-platform e-book software.
"The formation of Newco and our relationship with Microsoft are important parts of our strategy to capitalize on the rapid growth of the Nook business, and to solidify our position as a leader in the exploding market for digital content in the consumer and education segments," Barnes & Noble CEO William Lynch said.