Benchmarks hint at next-gen Ivy Bridge MacBook Pro, iMac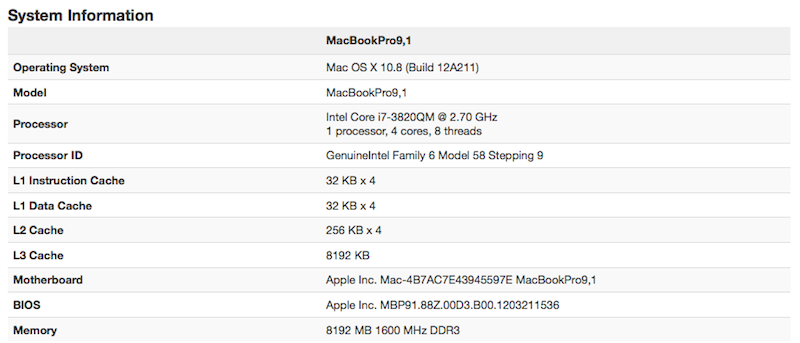 AppleInsider is supported by its audience and may earn commission as an Amazon Associate and affiliate partner on qualifying purchases. These affiliate partnerships do not influence our editorial content.
Geekbench benchmarks that appear to be from unreleased versions of Apple's MacBook Pro and iMac computers have surfaced online and serve as compelling evidence of upcoming upgrades from the company.
Scores for a MacBook Pro9,1 and an iMac13,2 were discovered by a MacRumors forum user on Sunday, as noted by the publication. Though it's possible the results were spoofed, the model numbers, if accurate, are higher than Apple's current-generation models.
According to the benchmarks, the MacBookPro9,1 was running Max OS X 10.8 (Build 12A211), a build that has yet to be released to developers. The machine reportedly made use of a quad-core 2.70 GHz Core i7-3820QM processor and received a GeekBench score of 12,252. That compares to a score of around 10,500 for the Core i7-2860QM processor found in the current MacBook Pro.
Benchmarks for the alleged iMac13,2 were posted a few days before the MacBook Pro results. The desktop was also powered by a quad-core i7 chip, though the model number was 3770 and the clock speed was 3.40 GHz. The operating system for the iMac was described as Mac OS X 10.8 (Build 12A2040), which may have been running an earlier build of Mac OS X 10.8 than that of the aforementioned MacBook Pro. The Geekbench score for the iMac came in at 12,183.
The report also noted that the motherboard identifiers for both machines match up with Mac models discovered in the first developer preview of OS X 10.8.
Geekbench has served as an accurate source of leaks in the past. In 2010, early benchmarks matched the eventual specifications of a MacBook Pro upgrade.
In March, benchmarks reportedly for "Hackintosh" Ivy Bridge-powered computers appeared online. A 3.50GHz Core i7-3770K CPU running Mac OS X 10.7 was said to have received a score of 13,453.
Chipmaker Intel officially launched its Ivy Bridge architecture late last month. Ahead of the release, CEO Paul Otellini indicated that the "bulk" of the first wave of chips would go to desktop computers. A second batch of Ivy Bridge processors bound for lightweight notebooks are scheduled to be released later this quarter.
AppleInsider reported in February that, according to sources, Apple is readying upgrades to its MacBook Pro line that will draw from MacBook Air-style design choices, such as solid-state drives, omission of an optical drives and instant-on capabilities.
"They're all going to look like MacBook Airs," the source said of the upcoming MacBook Pro models.
Rumors have also suggested that Apple will release new iMacs in June or July. One report claimed last month that the new iMacs will feature anti-reflective displays.