Tim Cook meets with Speaker of the House John Boehner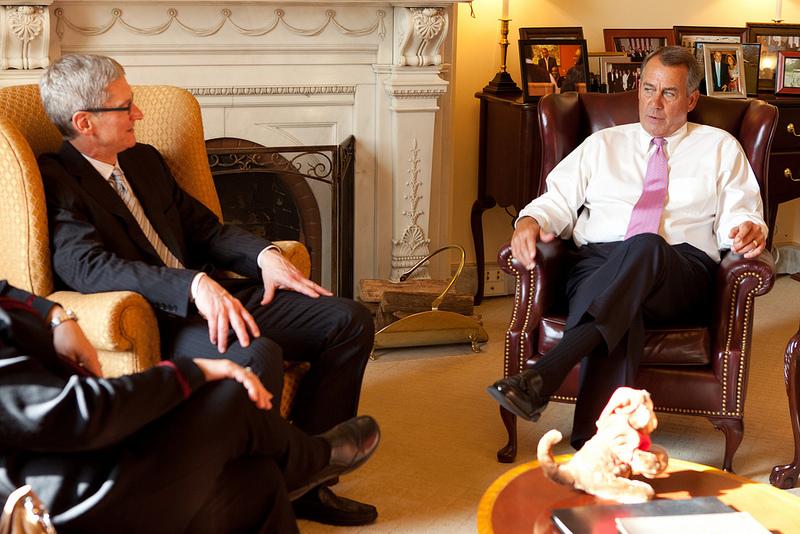 AppleInsider is supported by its audience and may earn commission as an Amazon Associate and affiliate partner on qualifying purchases. These affiliate partnerships do not influence our editorial content.
Apple Chief Executive Tim Cook met with Speaker of the U.S. House of Representatives John Boehner on Tuesday for reasons yet to be reported.
A picture from the official Speaker of the House "Speaker Blog" showed Cook donning uncharacteristically formal attire sitting mid-conversation with Speaker Boehner at the U.S. Capitol in Washington, D.C. The photo came with no details and it is unknown what the two were discussing.
Speaker Boehner is an outspoken opponent of a House measure aimed at China that would call for the U.S. to take action if it was suspected that a country was manipulating the value of its currency.
Earlier today, Boehner said the GOP-lead House would lay the groundwork for possible tax reform ahead of an expected debt ceiling hike from President Obama and congressional Democrats, reports The Christian Science Monitor.
Citing a speech Boehner is expected to make, the House will vote before the upcoming election to "give Congress time to work on broad-based tax reform that lowers rates for individuals and businesses while closing deductions, credits, and special carveouts."
Apple's tax practices were recently criticized following a New York Times expose that claimed the company uses loopholes to save billions of dollars each year by "sidestepping" U.S. tax laws.