Tim Cook wanted to join Apple 5 minutes into interview with Steve Jobs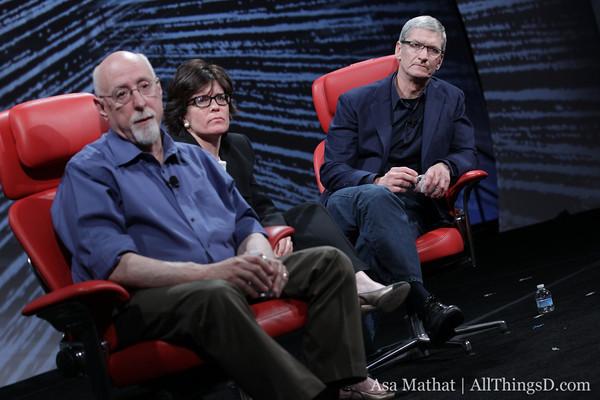 AppleInsider is supported by its audience and may earn commission as an Amazon Associate and affiliate partner on qualifying purchases. These affiliate partnerships do not influence our editorial content.
Apple boss Tim Cook revealed on Tuesday that he was ready to jump ship from Compaq to Apple just five minutes into his 1998 interview with late Apple co-founder Steve Jobs.
During the question and answer period of an on-stage interview at the D10 conference in southern California, Cook recounted the reasons behind his decision to join Apple almost 15 years ago.
Cook said he had been getting repeated calls in 1998 from an executive search firm hired by Jobs to find an operations executive. After saying no multiple times, Cook finally caved and agreed to an interview, taking a red-eye flight on Friday for an interview on Saturday morning.
"It was a very interesting meeting," Cook said of the interview, adding that he was surprised to find that he wanted to join Apple after just five minutes.
Cook pointed to three things that prompted the decision. He said he recognized the brilliance of Jobs' vision for the iMac as being different from "following the herd." He was also impressed by Apple's strategy to target the consumer market, which contrasted with competitors' plans to move toward the enterprise. Finally, Jobs struck Cook as someone who was unaffected by money, a trait that he strongly admired.
Those factors combined to lead Cook to "throw caution to the wind." He went back to Compaq and resigned immediately.
Another selling point that drew Cook to Apple was the loyalty of its customer base. Unlike Compaq customers, Apple customers would get mad at Apple but keep buying from the company. "An Apple customer was a unique breed," he said, adding that they had a level of emotion that isn't usually seen in the technology industry.
Even early on, Cook saw the value that his contribution could add to Apple. "When I looked at the balance sheet of the company, I thought I could do something in turning around a great American company," Cook reportedly said.
As chief operations officer at Apple, Cook came to be known as one of the world's most brilliant operations executives. Cook, Jobs and the rest of the team at Apple went on to stage an impressive comeback that took the company from the verge of bankruptcy to the world's most valuable company. Cook was trusted with the daily operations at Apple during Jobs' medical leaves and was eventually given the role of CEO last August.
Visit AppleInsider's D10 archive for more of Cook's comments and ongoing coverage of the conference.