First look at Apple's 'next generation MacBook Pro' with photos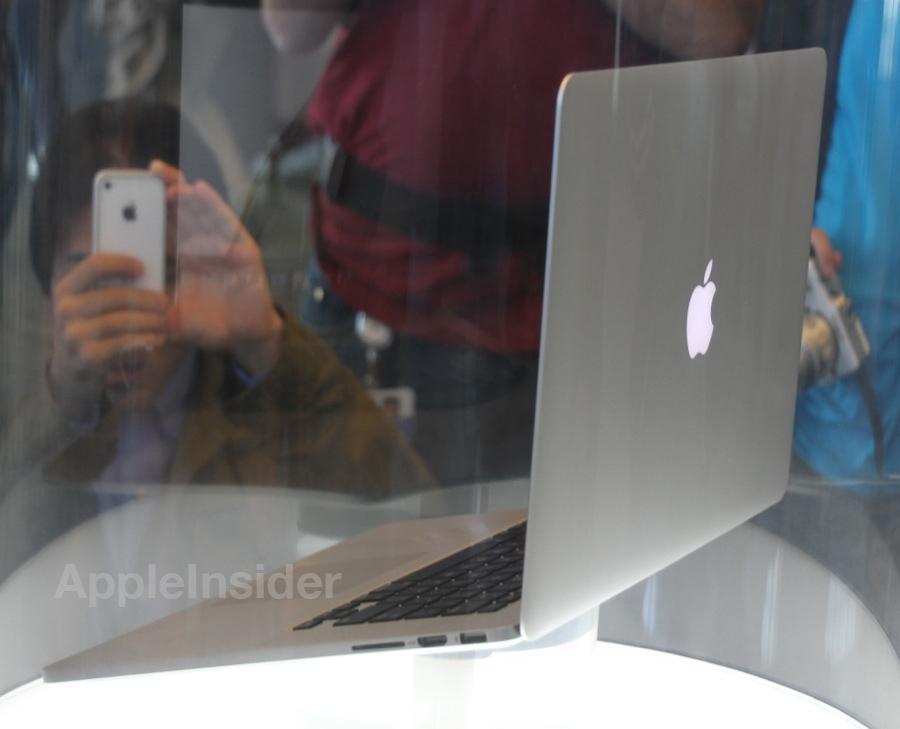 AppleInsider is supported by its audience and may earn commission as an Amazon Associate and affiliate partner on qualifying purchases. These affiliate partnerships do not influence our editorial content.
After announcing the "next generation MacBook Pro" complete with Retina Display, Apple let WWDC attendees spend some quality time with the machine and AppleInsider was there to grab some up-close photos.
"The most beautiful computer we have ever made"
That's what Apple is calling the new Retina Display-toting MacBook Pro, and the company had an example on display at WWDC. The unit was protected by a plexiglass cylinder, but guests were able to get close enough to get a feel for the high-resolution display and redesigned port layout.
First look at the sleek outer design of Apple's new MacBook Pro.
Off-axis screen on the MacBook Pro's 15.4-inch 2,880 by 1,880 pixel screen jams in 220 pixels-per-inch and is quite impressive to the naked eye, though future tests will show just how it compares with current models. Note the deep blacks and reduced glare, which Apple claims is 75 percent less reflective than glossy displays on current machines.
Apple's newly-redesigned MagSafe 2 power connector looks to be physically similar to current offerings, though the revamped internals were not on display at the time of this writing.
The uni-body chassis is packed with high-density batteries to accomodate the added draw from the Retina Display that will create a higher level of heat compared to current=generation models. As seen in the photo below, the new unit sports an interesting venting setup on its underside to handle the laptop's unique thermal properties.
Upgraded connectivity options include USB 3.0 and a dedicated HDMI-out port along with a high-speed Thunderbolt port and SD card reader. With the nixing of an optical drive, Apple has moved three connector ports to the right side of the machine.