Apple Store app adds Express Checkout, pickup alert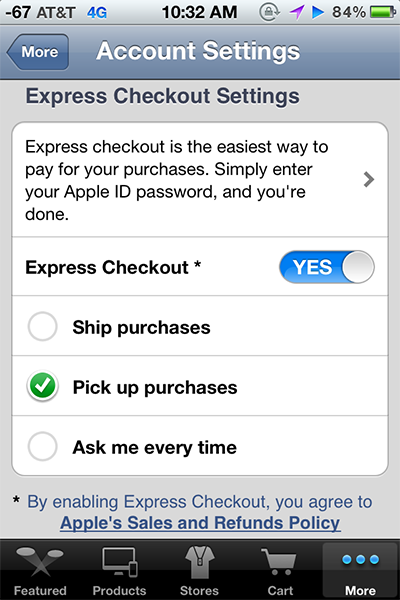 Apple on Wednesday updated its Apple Store iOS app to bring express checkout and location-based features to help streamline the process of picking up orders made both in-store and online.
With version 2.2 of the Apple Store app customers can now use the same Express Checkout feature the company first introduced on its online store which allows the purchase of products without going through the normal "shopping cart" process.
When customers enable the Express Checkout option under Account Settings, a new "Buy Now" button will be displayed instead of "Add to Cart," and purchases are completed by simply entering an Apple ID password. Upon setup, the app will ask for a customer's credit card security code for verification as well as preferred mode of shipping or pickup. Previously, Apple Store app users would have to add an item to a virtual cart and go through multiple authentication checks to complete their respective orders.
Also new in version 2.2 is the pickup alert feature that allows customers even faster access to their recently-purchased items by having them ready at a nearby brick-and-mortar Apple Store. The iPhone 4S-only system uses iOS geofencing to "let [Apple] Specialists know when you're approaching the Apple Store, and your products can be ready by the time you arrive." The feature also allows for other in-store services to be activated when near an Apple Store.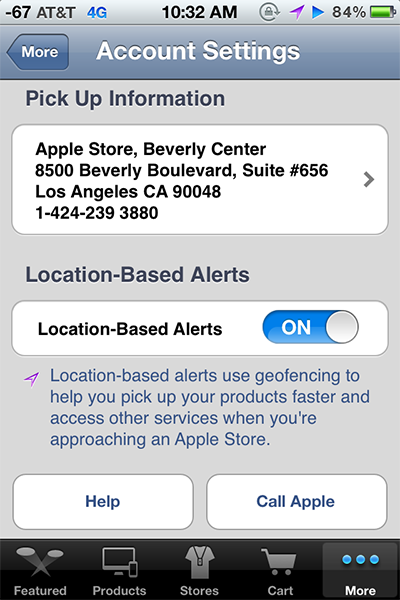 The free Apple Store app is available through the iOS App Store or iTunes.