Microsoft expected to announce Windows Phone revamp on Wednesday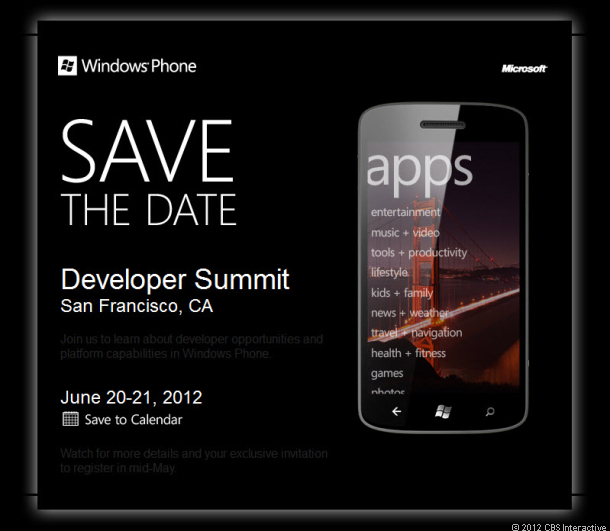 Riding a wave of momentum generated by the Surface tablet unveiling on Monday, Microsoft will be outlining plans for Windows Phone 8 on Wednesday as part of the company's push to take on Apple and Google in the mobile market.
The Redmond, Wash.-based tech giant is slated to discuss the next-generation Windows Phone 8 at a two-day long developer summit in San Francisco, with anticipated topics ranging from multi-core mobile CPU support to tighter device integration across the Windows environment.
Unlike Monday's Surface tablet event which was teased late last week, the upcoming developers conference was announced a month ago and Microsoft has been relatively tight-lipped about what to expect, reports CNET. It is clear that the company will be focusing on its mobile OS as the invitations sent to press outlets were from Microsoft's Windows Phone unit and depicts a mobile device sporting a Golden Gate Bridge background image.
Rumors surrounding the event point to the announcement of Windows Phone 8, the next-gen mobile operating system that is widely speculated to support multi-core processors. This would be a step up from the current single-core units like the Qualcomm Snapdragon SoCs used in handsets like Nokia's Lumia series. Because developers play a key role in writing the multi-threading code necessary to deploy software in multi-core devices, the topic will likely be broached during the summit.

Windows Phone Developer Summit invitation. | Source: CNET
While the basic UI of Windows Phone 8 will be much the same as the current Windows Phone 7, Ina Fried of All Things D points out that the core operating system kernels will be totally different. She notes that Windows Phone 7 is based on the legacy Windows CE platform Microsoft stripped down to battle Palm when smartphones were in their infancy, while the as-yet-unannounced Windows Phone 8 will likely be built on the Windows NT core that has been at the heart of every desktop iteration of the OS since Windows XP. Further extending the NT kernel's reach is Windows 8, the OS that will power next-generation tablets like Microsoft's own Surface, but desktops, laptops and the new Ultrabook specification as well.
Fried makes an astute point in saying that developers won't have much of a problem porting their software to a variety of devices running Windows 8, though this raises the question as to whether the OS can be pared down enough to run smoothly on respective hardware. Software written for Windows Phone 7 should have no problem running on Windows Phone 8 as Microsoft didn't allow developers to write code directly to the kernel and instead forced them to use Silverlight and XNA.
With Windows 8 Microsoft will have an operating system that will underpin a set of devices that runs the hardware gamut but it remains to be seen whether it will be a true one-OS ecosystem that is both stable and non-fragmented. This is the type of tight system integration that Apple is moving toward with iOS 6 and OS X Mountain Lion albeit in a more indirect way with discrete mobile and desktop operating systems.
Also rumored to make an appearance at the event tomorrow is near field communication (NFC) hardware support similar to Android's Google Wallet service. Apple has expressed interest in NFC with hirings and patents though it is unknown if the iPhone maker plans to include the technology into future version of its popular handset.
As the exact feature set of the next-generation Windows Phone awaits official announcement, some analysts predict that sales of the Microsoft-powered wireless devices will outpace those of the iPhone by 2016. The most current figures showed a 0.4 percent drop for smartphones running Windows Phone 7 during the month of April, though an expected fall 2012 launch for the Windows 8 ecosystem could drum up demand.