Microsoft faces 'major dilemma' pricing Surface tablets against iPad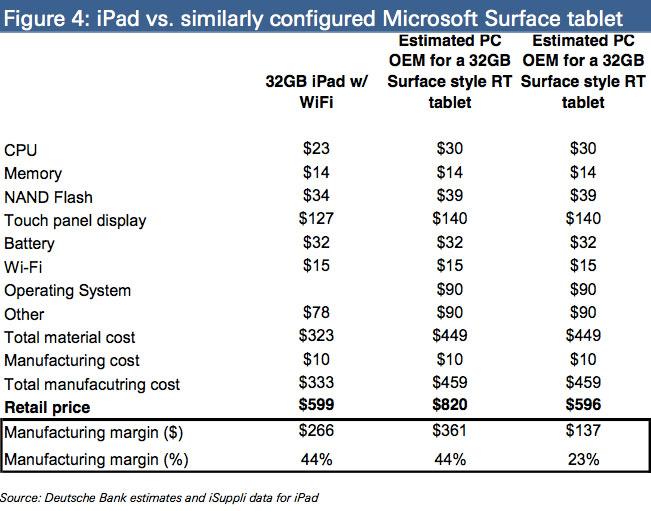 AppleInsider may earn an affiliate commission on purchases made through links on our site.
In order to compete with Apple's iPad, Microsoft may have to price its Surface tablet models so low that it will alienate its longstanding PC partners, according to a new analysis.
Chris Whitmore with Deutsche Bank doesn't have high hopes for the Microsoft Surface tablet lineup recently unveiled by the company. In a research note provided to AppleInsider on Monday, Whitmore said he feels Microsoft is "grasping at a competitive response," and he believes that response will fall short of competing directly with Apple's market leading iPad.
In particular, he feels Microsoft has a "major dilemma" in how it will price its Surface tablets. For the low-end ARM models running Windows RT, he believes Microsoft will have to undercut the iPad on price to find any success. But in doing so, Microsoft could make it impossible for its Windows partners to compete.
Whitmore estimates that PC makers will have to price their Windows RT tablets at around $650 to generate gross margins of about 20 percent. But if Microsoft were to compete with the iPad on price, it would "collapse the PC OEM profit pool," he said.
Even then, just matching the iPad in price wouldn't be enough, Whitmore believes. Given the variety and depth of applications available on the App Store, and the amount of money many users have already spent on iOS applications, Surface tablets running Windows RT will need to be priced at a discount when compared to the iPad if they will gain any traction, he said.
As for Surface "Pro" tablets running the full Windows 8 operating system, Microsoft has said those devices featuring traditional Intel processors will be priced comparable to Ultrabook notebooks, which usually cost around $1,000. Whitmore noted that Surface tablets running Windows 8 will carry a 20 percent premium over the high-end 64-gigabyte iPad with 4G LTE, and they will likely have worse battery life, fewer third-party apps and a thicker form factor.
Still, Whitmore believes Surface models running Windows 8 are more likely to find success because they offer backwards compatibility with traditional Windows software, like full support for Microsoft Office. He said the Surface Pro has the potential to slow adoption of Apple's iPad in the enterprise, but even that would be the best-case scenario for Microsoft, in his view.
"In such a scenario, Microsoft will be swimming upstream against the consumerization of IT trend with a heavier, bulkier and more expensive product," Whitmore wrote.
He projects total tablet shipments in 2012 will reach 97 million units, growing to 124 million in 2013. He sees iPad sales exceeding 60 million this year, and growing to 74 million in 2014.
Projections from Deutsche Bank call for Apple to maintain between 60 and 65 percent of the tablet market, while Surface RT and Android tablets will struggle to gain traction.