Apple wins U.S. injunction against Samsung's Galaxy Tab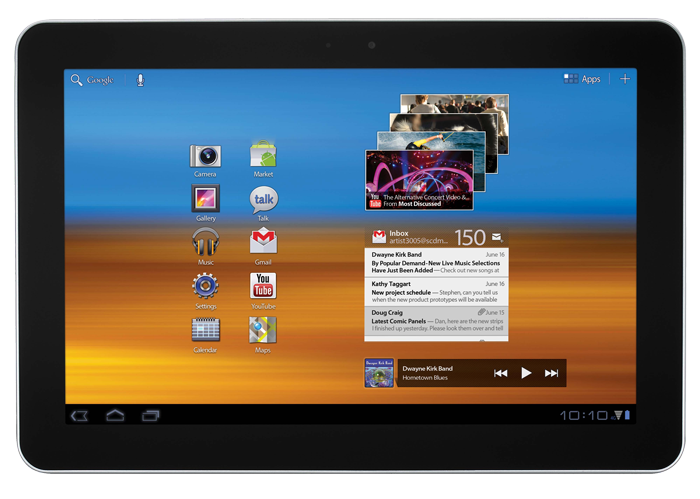 A U.S. judge on Tuesday issued a preliminary injunction against all sales of Samsung's Galaxy Tab, giving Apple a home-court victory in its ongoing legal battle against its handset rival.
U.S. District Court Judge Lucy Koh granted Apple's request to block sales of the South Korean electronic giant's iPad competitor, Reuters reports. The decision comes one week after a Samsung petition to rehear the patent case was denied.
"Although Samsung has a right to compete, it does not have a right to compete unfairly, by flooding the market with infringing products," Koh said.
According to the report, the injunction will be effective once Apple has put up a $2.6 million bond set aside for Samsung if the sales ban is later found to have been in error.
Apple won an appeal from the Court of Appeals for the Federal Circuit last month that reopened the company's bid for a sales ban against its rival. The court disagreed with Judge Koh's ruling that an Apple design patent was "obvious."
Following the successful appeal, Apple quickly re-filed its motion for an injunction against the Galaxy Tab. However, Apple was told earlier this month that it would have to wait until the formal ruling from the CAFC was handed down to the District Court.
Samsung had argued that its 4G tablet did not compete directly with the 3G-equipped iPad 2, but the line of reasoning proved to be ineffectual.
Tuesday's injunction represents a significant win for Apple at home. The iPad maker had previously successfully argued for temporary injunctions in Australia and Germany. Samsung dodged the German injunction by releasing a slightly-redesigned Galaxy Tab 10.1N. Meanwhile, the Australian ban was overturned last November.
Apple's displeasure at Samsung's apparent copying of its designs and intellectual property dates back to 2010. The company's attorneys revealed in court last year that then CEO Steve Jobs contacted Samsung to "give them a chance to do the right thing." However, talks eventually broke down and Apple sued Samsung last April.
The legal dispute between the two companies has grown quickly over the past year, spreading across more than 10 countries. In fact, Judge Koh has chastised the competitors for lodging too many claims against each other. Unwilling to subject jurors to what she called "cruel and unusual punishment," Kuo limited Apple and Samsung to 125 exhibits and 25 hours of arguments in an upcoming trial that she will preside over.
In May, the CEOs from Apple and Samsung met for settlement talks appointed by Judge Koh, but they were unable to come to an agreement.