FTC investigating Google, Motorola over FRAND patent abuse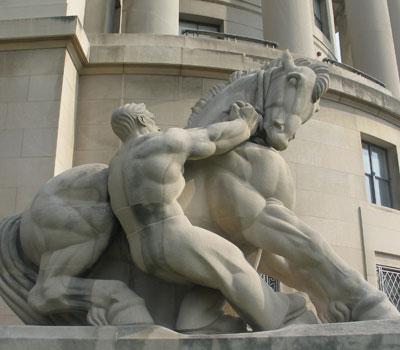 The U.S. Federal Trade Commission on Friday issued a civil investigative demand to Google to examine whether the Android maker is illegally using standards-essential FRAND patents acquired in a takeover of Motorola Mobility to block out smartphone competitors.
According to sources familiar with the issue, the FTC is focusing on Motorola's commitment to license industry standard technology in a fair and reasonable way and whether new owner Google's ongoing FRAND-based litigation should be considered anticompetitive, reports Bloomberg.
The FTC has reportedly requested information from other tech companies that may be affected by Motorola's industry-standard 3G wireless, Wi-Fi and H.264 video streaming technologies like Apple and Microsoft in an attempt to decipher whether Google intends to license the patents fairly.
Also part of the investigation is a closer look at the litigation Motorola initiated, and Google continued after it bought the telecom in May for $12.5 billion, that could see the sales ban of devices like the iPhone and Xbox.
While a spokesman for Microsoft confirmed that the company had received a civil investigative demand, he refused to comment further and both Apple and Google did not issue statements regarding the matter.
"Man Controlling Trade" sculpture outside FTC building.
Source: FTC.gov
FRAND patents have become the heart of Android's arsenal in ongoing worldwide litigation against Apple's iPhone and iPad as well as older Motorola suits against Microsoft. Under fair and reasonable use agreements, companies that own essential patents commit to licensing the key industry-standard technologies like those associated with 3G wireless communications. The use of industry standard patents in litigation is a sticky matter and some pundits argue that governmental bodies like the FTC should not involve themselves in what are essentially contract disputes. Others, however, say that such issues are within the commission's jurisdiction given that the technologies apply to the broader market and are thus relevant in antitrust allegations.
Google acquired a litany of Motorola patents when it took over the Droid maker and has taken over the company's dispute with Apple over a Wi-Fi property currently undergoing ITC review. Depending on the outcome of the commission's findings, Apple products using the patent including the iPhone and iPad could be banned from U.S. shores.
Motorola is also complaining of the licensing practices shown by Microsoft and Apple as the company's Vice President of Intellectual Property Kirk Daily claims that the two tech giants "seemingly won't accept any price" for patents acquired from a group-buy of Nortel Network Corp. patents.
Friday's news comes two months after the European Commission, the EU's antitrust watchdog organization, formally opened identical investigations against Motorola at the behest of Apple and Microsoft. Google is also facing a separate FTC antitrust investigation regarding alleged anticompetitive web-based search result rankings and issues with Android handset makers.