Apple iOS growth doubles Android over last three months, report says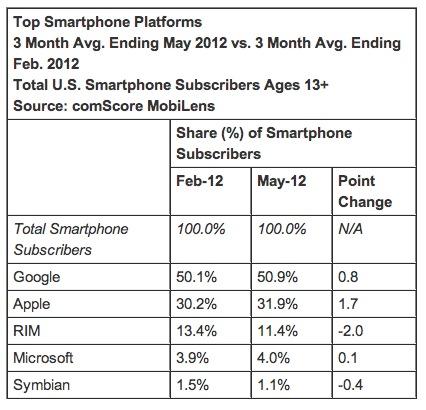 While Android and iOS continue to dominate the smartphone market, new data released on Monday suggests that the growth of Google's mobile OS may be slowing as Apple saw two new users for every Android customer during the past three months.
Android users accounted for 50.9 percent of the U.S. smartphone market while iOS garnered 31.9 percent according to research firm comScore's MobiLens service which surveyed 30,000 mobile subscribers during the three months ending in May.
Both of the top two operating systems managed modest gains but Apple more than doubled Android's growth with the Google OS seeing a 0.8 point during the three months while iOS added 1.7 percent over the same period. The change is reflective of the most recent findings from April which saw a negative month-to-month growth for Android. Google eked out a monthly growth of 0.1 points from April to May as next-closest competitor Apple grew 0.5 poins over the same month.
RIM came in a distant third for the three-month period ending in May and managed 11.4 percent, a substantial two percent drop from the beginning of February as the embattled BlackBerry maker undergoes massive restructuring and corporate turmoil. Microsoft's share grew 0.1 percent to finish May with 4 percent of the market while the defunct Symbian OS rounded out the top five with 1.1 percent dropping 0.4 points.
Of the 234 million Americans age 13 and older using mobile devices, smartphone owners accounted for a healthy 110 million users at the end of May, up 5 percent from February.
Samsung retained its crown as the nation's top combined feature phone and smartphone OEM with a commanding 25.7 percent share of the market, up 0.1 percent from three months ago and was followed by Korean handset maker LG's 19.1 percent share. Apple continued to exhibit signs of growth on strong sales of the newest iPhone 4S and grew 1.5 percentage points to claim 15 percent of the market. Motorola and HTC trailed the pack and managed 12 percent and 6.1 percent, respectively.