Apple's Retina display iPad driving enterprise adoption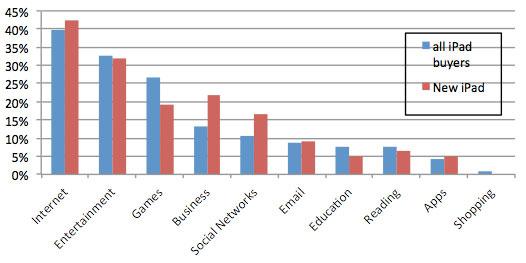 AppleInsider is supported by its audience and may earn commission as an Amazon Associate and affiliate partner on qualifying purchases. These affiliate partnerships do not influence our editorial content.
Since the launch of the third-generation iPad with Retina display in March, Apple has seen adoption amongst business users increase significantly, according to a new study.
The data comes from Consumer Intelligence Research Partners, which provided AppleInsider with a copy of its latest report on Thursday. The firm's proprietary research found that iPad sales to business users have picked up since the iPad with Retina display debuted.
Among buyers of the latest iPad model, 21 percent indicated they are more likely to use the touchscreen tablet for business. That compares to just 13 percent of iPad users across all models who said they would use their iPad for business.
Leisure use is still the most dominant way people interact with their iPads, but the data shows that business use for Apple's tablet is increasing. CIRP's data found that business use saw the single largest increase of any category
In fact, only social networking use saw a substantial increase, from 11 to 16 percent, thanks to the launch of the new iPad. Other usage categories, like Internet, entertainment, e-mail, education, reading and apps, were largely unchanged by the debut of the third-generation iPad.
The research also concluded that devoted Apple product owners are more likely to find ways to use their iPad for business, but less likely to play games.. CIRP identified Apple devotees as customers who own an Apple TV, and AirPort Wi-Fi Router, or a Time Capsule.
In addition, the study found that customers who buy an iPad with more storage are more likely to use the device for "more serious purposes," such as business. But while there was a correlation with capacity, those differences did not exist when comparing Wi-Fi-only iPad to users to those with 3G or 4G LTE connectivity.